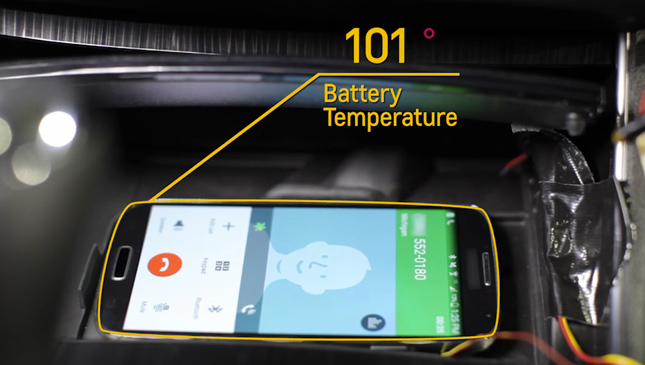 Smartphones have become an inevitable part of everyday life. Nowadays, making and receiving calls is just a small part of toting that mobile phone around. We now check e-mail and Facebook, and even stream music and watch videos through that relatively little screen. In fact, going on a road trip isn't complete without a smartphone hooked up to the car, to keep you in touch and entertain you while you pour on the kilometers.
For all the convenience that these devices offer, the reality is that there is a downside to their constant use. One of the most nerve-wracking things that plague a smartphone and its user is overheating. If you've ever held an iPhone that seems hotter than the scorching Metro Manila heat, then you'll know what we mean.
Fortunately, all is not lost. Chevrolet has just come up with a solution aptly called Active Phone Cooling. As the name implies, this nifty little feature helps cool down your smartphone while you're in your car.
While all mobile phones have a built-in thermal protection system to prevent them from heating up too much, this doesn't seem to be enough. Graphics and data processing, combined with charging, tend to take their toll on your mobile device. Phones tend to hang or even shut down when the heat becomes too much. And we all know how irritating this can be, especially if you're on the road and relying on Waze to get you to your destination.
Continue reading below ↓
Recommended Videos
Chevrolet's device is connected to the vehicle's ventilation system and courses cool air from the air-conditioning to a phone cradle, where the device is placed to wirelessly charge it. This helps keep the phone cool and maintain a constant temperature, so it can be used all throughout your trip.
Not only will this keep your device in cool working condition, it can also help extend battery life and protect the phone's internals. Plus, you're assured that your portable gadget won't hang on you while you stream your music, read your Twitter feed, or take a call on the go.
The industry-first Active Phone Cooling will first be seen on the Impala and the Malibu. It will likewise be found on the 2016 Volt and Cruze. While we can reasonably expect this feature to make its way over to our market, when it's arriving is the big question.