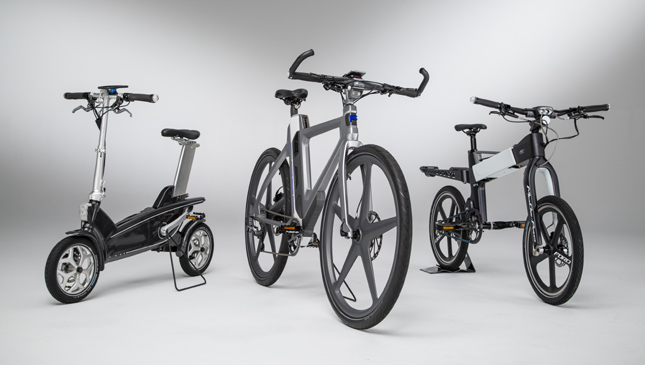 As cities and urban centers become increasingly crowded, many people find themselves looking for creative and innovative ways to get around. While many still can't let go of their cars (especially with a not-so-efficient mass transport system like ours), there are commuters and motorists who prefer to travel on two wheels. Proof of this is the growing number of motorcycles on the road.
For those that want to be different--not to mention environment-friendly--biking is the way to go. Of course, pure pedal power isn't exactly practical. This is why a few genius minds have come up with some really cool electric bikes to provide mobility solutions that would change the way we move around, as well as connect with the rest of the world.
In the photo are e-bikes known as MoDe:Me, MoDe:Pro and MoDe:Flex. Each one offers a host of features to make the daily commute a lot easier, especially in the cramped and often chaotic urban jungle. They boast battery power, to assist a rider on difficult uphill climbs or when extra propulsion is required. They are reconfigurable and can easily fold as well. This makes it easy to stow away when at the office, for example. And thanks to an app called MoDe:Link, riders are kept in the loop via real-time weather and traffic updates on their mobile phones.
If all this sounds really cool, thank the four gentlemen who came up with these smart e-bikes. Bill Coughlin, president and CEO of Ford Global Technologies, spawned the idea that started the entire concept. Bruce Williams, Ford's senior creative designer, was a national skier who dreamed of becoming a vehicle designer. Bruce Southey, Ford's innovation designer, came up with the "no sweat" mode for the MoDe:Link app that links with the Apple Watch and turns on the e-bikes' electric motor. And then there's Tom Thompson, an avid mountain-biker who works as Ford's engineering manager.
ADVERTISEMENT - CONTINUE READING BELOW ↓
These four geniuses put their heads together to come up with a trio of bikes that will hopefully change the way we get around. While many may still prefer to use their cars, it is nice to know that we may soon have a viable alternative that isn't just good for our health, but can likewise benefit our planet.
ADVERTISEMENT - CONTINUE READING BELOW ↓
Recommended Videos