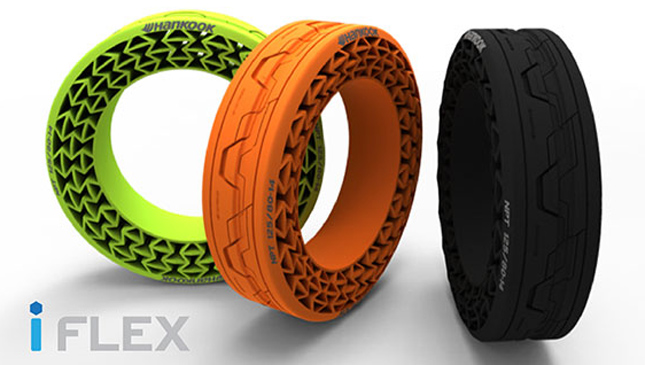 Car maintenance is an important part of our motoring lives. Apart from filling up the fuel tank, it would be wise to check that all fluids are topped up, that the battery is fully charged, and that the engine is clean and in good condition. And let's not forget the tires--make sure that these are free of cuts and are properly inflated.
But alas, the sad reality is that the aforementioned checklist is usually ignored, especially the part on tires. While it is easy to have a gasoline station attendant check the tire pressure for you, this is often an overlooked task. This is probably what prompted tire manufacturer Hankook to continually conduct research on non-pneumatic tires (NPT).
Its newest product is called iFlex, and it's the latest step in Hankook's tire development using NPTs. The tests included how these tires would fare in harshness, durability, stability, slalom or abrupt lane changes, and high speed. The electric vehicle used for the test was brought up to a sustained speed of 130kph. The result? According to Hankook, such tires are at par with conventional, air-filled ones.
Aside from the obvious benefits of having airless tires, NPTs are likewise constructed using purely recyclable materials. This means they are manufactured using eco-friendly processes. Once their life cycle is up, they can be recycled to make new, useful materials, and won't clog up some landfill.
Continue reading below ↓
Recommended Videos
The high-speed testing of the iFlex is just one phase of Hankook's continued quest to bring consumers the tire of the future. Programs such as the Design Innovation project and the Next Driving Lab have been working closely with students, engineers and designers, to pick their brains on what they think would be the best and most creative solutions and ideas for tomorrow's driving experience.
With tires like the iFlex airless tire, you may have one less item to tick on your maintenance checklist. And of course, flat tires may just be a thing of the past.