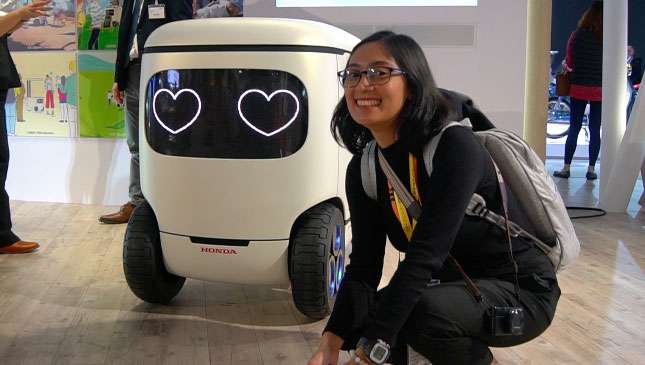 Okay, so it's not necessarily just a food cart—it was "born to make each person's ideas and dreams come true." So whether you want to sell food or lug around items or hold an impromptu sidewalk gig, this little dude should have you covered.
It's called the Honda RoboCas Concept, and you may notice that it shares the same styling and color scheme as the Sports EV and Urban EV concept cars. Billed as a "small-sized electric mobility product," it appeared at the Tokyo Motor Show as a bar cart, a DJ table, and an all-around attention-grabber, able to sense and react to those around it through Honda's autonomous mobility technology. It promptly made heart eyes at our online managing editor, too, when she crouched down beside it for a photo op. #CrazyForTracy
Continue reading below ↓
Recommended Videos
Here's how Honda envisions the RoboCas Concept to be used:
This wasn't the only quirky, non-automotive showcase that Honda had in store for us during our Tokyo trip—we're talking about the company that came up with Asimo and a Type R lawnmower, after all. During our Honda Collection Hall visit, we were also able to trial the Walking Assist and the UNI-CUB ß from the Honda Robotics division.
Both products were created based on what the division's engineers had learned from developing Asimo. The Walking Assist, as its name implies, helps those with reduced mobility to walk more easily, thanks to a lightweight dual-motor system that provides natural-feeling propulsion to both legs. It also allows the wearer to stand up more comfortably by reducing the load on his legs. The device has been available for sale in Japan since 2015.
The UNI-CUB ß, meanwhile, uses balance-control and omni-directional driving-wheel systems to let the user move forward, back, left, right, or diagonally, just by shifting his body weight. Just in case you're wondering, no, we still haven't figured out a practical purpose for this in the real world, but we would use it to get a soda from the office pantry. Don't judge.
Finally, at the Tokyo Motor Show's Tokyo Connected Lab 2017, Honda brought to life its vision of a future in which mobility enriches lifestyle, and vice versa.
At the forefront of this is the Ie-Mobi. Ie (pronounced 'ee-a') is Japanese for 'home,' but Honda's concept of the future home is part-automobile, part-dwelling place—one that "makes it possible to supply electricity from the car to the home and from the home to the car." The 'Mobi' part may be driven off to wherever the inhabitant needs to go; come the end of the day, it slots back into the dwelling portion and can even function as a spare room, with 5sqm of space.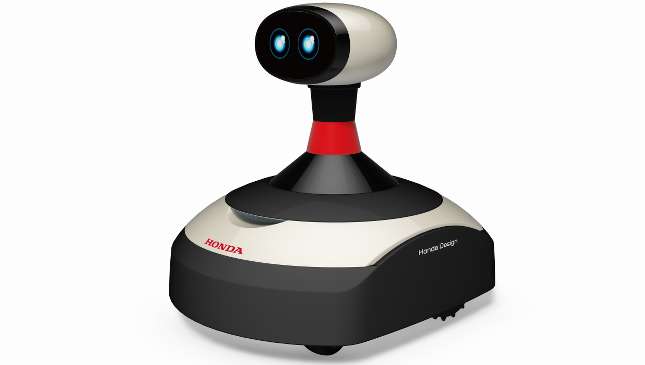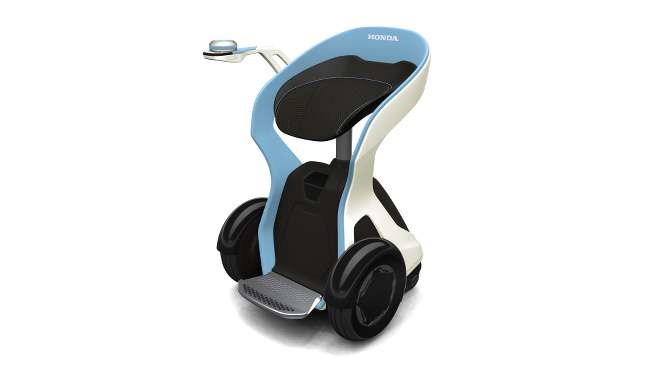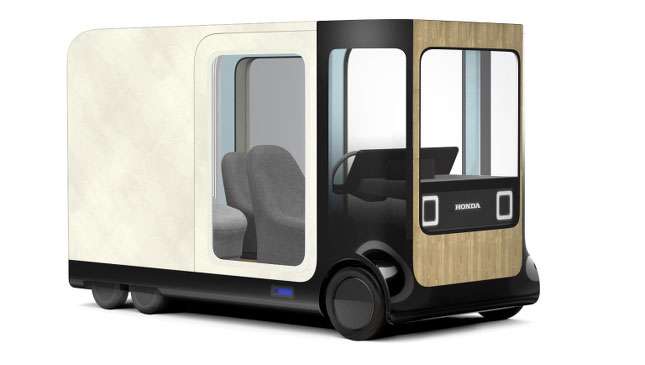 The next two concepts are personal-mobility devices: the Chair-Mobi and the Fure-Mobi. Chair-Mobi is essentially a compact motorized wheelchair that grants older or disabled people one-mile mobility, allowing them to go about life and interact with society even when they are limited by a physical condition.
As for Fure-Mobi, it seems to follow the same basic principle, but there's space for a second person to stand behind the seated occupant. Here's how Honda explains it (or not really): "Traveling, and getting in and out of the Fure-Mobi together, encourages a natural connection. Connecting feelings between two people makes them more positive, towards each other, and towards connecting with society. One Fure-Mobi for two is the start of connecting one to another, and two to society."
...okay.
Last but not least, it's that lawnmower again! Only now it's Ai-Miimo, and once it's done cutting grass, it can follow you around and even communicate with you, just like a young family member or a pet. Too bad the engineers didn't install the AI on the Miimo Type R—probably because the resulting concept would go around challenging people to race if left unsupervised.