Consumer acceptance of self-driving cars may have declined this year, but the big players—and not just in the automotive industry—still believe that autonomous vehicles will be prominent fixtures in the near-future motoring landscape. Car manufacturers, mobility service providers, and tech companies continue to make massive investments in the research and development of their driverless systems, even teaming up with each other to share know-how and resources.

This week, Honda and Toyota were the latest carmakers to announce newly forged partnerships that will take them closer to their goal of rolling out self-driving cars on a large scale.

Honda revealed in October 3 that it will be working with Cruise Automation, a subsidiary of General Motors, "to fund and develop a purpose-built autonomous vehicle...that can serve a wide variety of use cases and be manufactured at high volume for global deployment."

Honda's involvement includes a $750-million equity investment in Cruise, plus another $2-billion contribution to be made over 12 years. That brings the Japanese carmaker's total project investment to $2.75 billion.

And it seems that design expertise, in particular, will be Honda's other major contribution to this endeavor. Notice that the teaser image above bears no resemblance to Cruise's current fleet of driverless Chevrolet Bolts:
Continue reading below ↓
Recommended Videos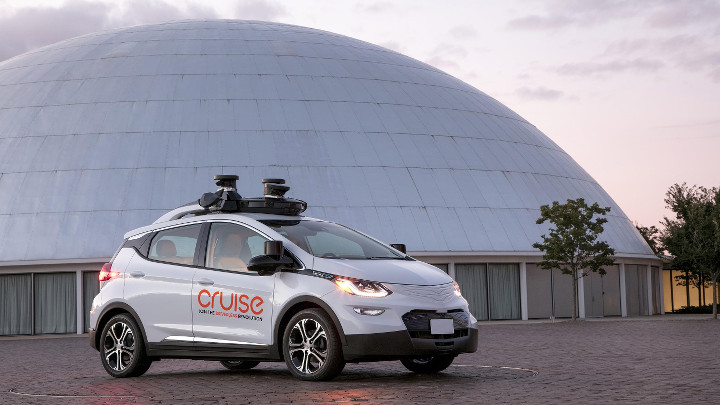 Said Seiji Kuraishi, Honda's COO, executive vice president, and representative director: "Honda chose to collaborate with Cruise and General Motors based on their leadership in autonomous and electric vehicle technology and our shared vision of a zero-emissions and zero-collision world. We will complement their strengths through our expertise in space efficiency and design to develop the most desirable and effective shared autonomous vehicle."

Which means the resulting product will be entirely about the riding experience. Think the recently unveiled Volvo 360c concept, whose interior looks less like a car's cabin and more like an airplane's first-class suite.

"Shouldn't the car of the future have giant TV screens, a mini bar, and lay-flat seats? Maybe it should," wrote Kyle Vogt, CEO of Cruise, in a Medium post. "We've been quietly prototyping a groundbreaking new vehicle over the past two years that is fully released from the constraints of having a driver behind the wheel. Building a new vehicle that has an incredible user experience, optimal operational parameters, and efficient use of space is the ultimate engineering challenge. We're going to do this right, and by joining forces with Honda, we've found the perfect partner to help make it happen."

The post-money valuation of Cruise currently stands at $14.6 billion. This comes after a recent $2.25-billion investment by SoftBank—which, incidentally, is also Toyota's new partner in the driverless tech race.
Toyota and Softbank announced on October 4 that they will establish a joint venture company called MONET Technologies before the end of the 2018 fiscal year (April 2019). The name is a contraction of the phrase 'mobility network,' and represents the corporate philosophies of the two companies: 'Mobility for All' for Toyota, and 'Information Revolution – Happiness for Everyone' for SoftBank.

MONET will integrate the two companies' data collection and analysis platforms for connected vehicles and connected devices, with the initial goal of providing vehicle-dispatch services that optimize vehicle supply according to real-time user demand.

Eventually, the mobility service will be fully autonomous—specifically through the use of the battery-electric Toyota e-Palette, which may be customized for a user's specific needs. So it could be  a "meal deliveries vehicle where food is prepared while on the move, hospital shuttles where onboard medical examinations can be performed, mobile offices, and many more." The so-called Autono-MaaS, or 'autonomous mobility as a service,' is expected to roll out by the second half of the 2020s, first in Japan and later on in other countries.