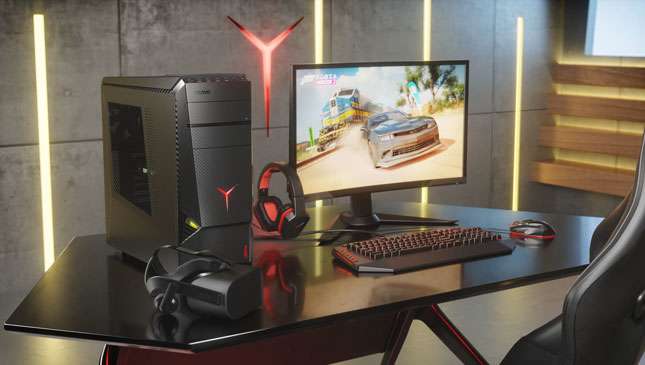 There's nothing worse when you're playing a racing game than having your machine suddenly glitch up and ruin your whole experience. When you're trying to beat your best lap time at 300+kph on your keyboard, you need a rig that can keep up. Lenovo's newest lineup of gaming PCs, judging by their heavy-duty specs, can keep up with the best of your virtual Nurburgring fantasies.
At the Gamescom 2017 in Germany, the Chinese-American tech company revealed the newest additions to its Legion gaming lineup: three VR-ready PCs in the Legion Y920, Y720, and Y520 Towers, and the new Lenovo Legion Y25f gaming monitor.
Continue reading below ↓
Recommended Videos
The Towers were designed with different levels of gamers in mind. The Y520 is for the entry-level user and comes with an NVIDIA GeForce GTX 1060 GPU and up to a seventh-gen Intel Core i7-7700 processor. For mainstream gamers, the Y720 has the same processor with NVIDIA GeForce GTX 1070 8GB graphics. For the real hardcore crowd, the Y920 has Intel Core i7-7700K quad-core processors and a 1080 8GB graphics card.
For faster loading times, the Y920 has the optional 32GB 2800 MHz Corsair Vengeance LPX overclockable DDR4 memory and integrated Asetek liquid cooling to overclock the CPU. All Towers come loaded with Windows 10. The Y25f monitor, meanwhile, is a 24.5in FHD display with a 144Hz refresh rate.
"Among other things, gamers want speed and performance in their devices. We built these new Lenovo Legion towers with that as our main focus. They are designed to easily handle today's best games, from the most-demanding in terms of graphics to the light ones released by indie platformers," said Lenovo Philippines country GM Michael Ngan.
Pretty impressive stuff. Any of you gamers planning to invest in one of these rigs?