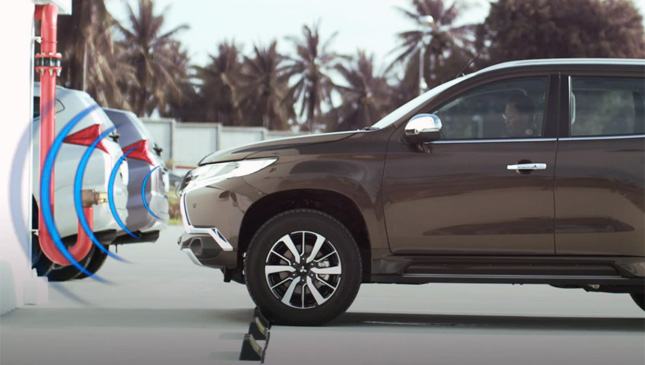 Let's cut to the chase: The Mitsubishi Montero Sport (the outgoing model, that is) is accused by some people (who claim to be "accident victims") as suffering from what is called sudden unintended acceleration. In a nutshell, it is the alleged involuntary acceleration of a motor vehicle, which is said to lurch forward even without the driver stepping on the gas pedal.
This supposedly mechanical or electronic gremlin has never been proven by anyone. It has never been replicated. Not even by the best automotive engineers in the world. The most popular opinion is that accidents attributed to "sudden unintended acceleration" are really caused by driver error, which usually happens with automatic-transmission units, where the driver mistakenly steps on the throttle when he/she really means to step on the brake pedal. This is made worse by the fact that the pedal layout in the current Montero Sport is a little too cramped even for an average-size right foot.
Mitsubishi Motors Philippines already issued a statement four years ago: "Upon receiving these complaints on unintended acceleration, Mitsubishi Motors Corporation of Japan dispatched its engineers last February (2011) to investigate the claims. The investigation yielded that all the components (fuel injection system, pedal, engine control unit, wiring harnesses, etc.) and software were operating normally within specifications."
Still, the allegations persisted.
With the launch of the all-new Montero Sport in Thailand today, it is only reasonable for a customer to ask: Will it also exhibit the same sudden-acceleration-like behavior?
Without admitting that the outgoing Montero Sport is plagued by uncontrolled acceleration, the Japanese carmaker went ahead and equipped the new-generation model with safety features to address the "issue" anyway. How? By giving the new Montero Sport a pair of safety technologies: the Ultrasonic Misacceleration Mitigation System and the Forward Collision Mitigation System. Basically, these safety features make it virtually impossible for the new Montero Sport to launch itself on its own if there's an obstacle right in front of it. In fact, the vehicle won't move even if the driver floors the gas pedal if the motion sensors detect an object in the vehicle's immediate path.
ADVERTISEMENT - CONTINUE READING BELOW ↓
Watch the two videos below (produced by Mitsubishi Motors Thailand) to better understand the safety technologies. They're easy to grasp even if the text explanation is in Thai.
Anyway, these new safety features should protect the all-new Montero Sport from allegations of sudden unintended acceleration. More important, these should protect incompetent drivers from themselves.
If you're viewing this on a mobile device and can't see the video, please click here.
If you're viewing this on a mobile device and can't see the video, please click here.
ADVERTISEMENT - CONTINUE READING BELOW ↓
Recommended Videos