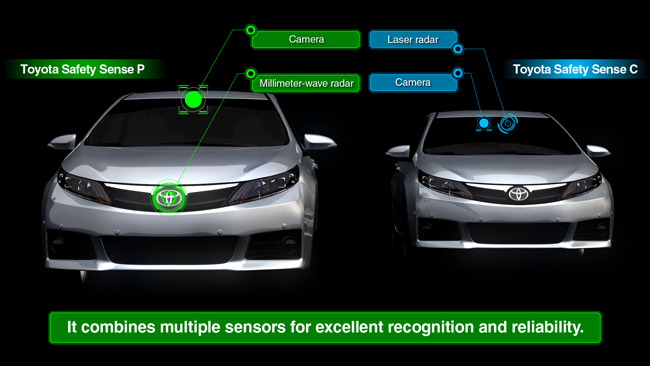 As evidenced by the increasingly common sight of Toyota 86 sports coupes on the road, as well as the odd sighting of a Lexus LFA in Bonifacio Global City, no one can accuse Toyota of being boring anymore. Its DNA is clearly infused with healthy doses of fun (or, as it likes to say, waku-doki).
But with great excitement comes great responsibility. Now that its cars are capable of getting our blood flowing again, Toyota wants to keep the blood in our bodies by upping the safety of its cars across the range.
Next year, the Japanese carmaker will introduce "Toyota Safety Sense" packages for its models. The goal is to have these systems in place in most Toyotas sold in Japan, North America and Europe by the end of 2017. There are two packages that will be available: a Toyota Safety Sense C bundle for compact cars, and a more advanced Safety Sense P set for midsize and high-end models.
For the Safety Sense C package, there are three features at work to prevent accidents: a Pre-Collision System (PCS), a Lane Departure Alert (LDA), and an Automatic High Beam (AHB) function.
PCS uses a camera and laser radar to scan ahead of the vehicle. When an obstruction is detected and a collision is imminent, it prompts the driver to brake with an audio and visual alert. PCS applies extra braking force once the driver reacts to the danger. If the driver fails to react in time, the system is the one that applies the brakes, reducing speed by about 30kph. PCS is only operational in the 10-80kph range, the speeds at which 80% or rear-end collisions occur.
Continue reading below ↓
Recommended Videos
The Lane Departure Alert feature is easier to understand. It uses a camera to detect white and yellow lane markings. When the driver deviates from the lane, LDA calls his/her attention with audio and visual alerts.
Honestly, we want to attach the LDA function to all public-utility vehicles. But instead of audio and visual alerts, we want high-voltage electrodes attached to the scrotums of the drivers. Wouldn't that be great?
Lastly, there's the Automatic High Beam. Through a camera, it detects oncoming vehicles' headlights and the taillights of cars in front, then automatically switches between high beam and low beam so other drivers won't be dazzled. A useful function for those who don't mean to but forget to lower their headlights with oncoming traffic.
Safety Sense P, on the other hand, has a more high-tech millimeter wave radar compared to the laser radar that Safety Sense C uses, which detects pedestrians as well as cars. When PCS senses a potential collision with human beings, it also reduces speed by 30kph. With vehicles, the speed reduction goes up a notch to 40kph. Other than that, it works mostly the same as the PCS of Safety Sense C.
Another advantage of millimeter-wave radar is better cruise control. The so-called Radar Cruise Control detects preceding vehicles and determines their speed. Your Safety Sense P-equipped Toyota, on the other hand, will adjust its speed accordingly (within a set range) to maintain a safe distance between the automobiles. This special cruise control uses its sensors to keep acceleration and deceleration smooth even when other vehicles merge in and out of your lane.
We experienced both PCS systems in Tokyo, Japan, during a media trip last week. For the Safety Sense C, we rode in a Prius with a driving instructor. We sped toward an inflatable obstruction, and when the Prius got uncomfortably near, brakes were fully applied without our driver stepping on the brake pedal. The sensation was abrupt and jolting, but not violent. The action had to be that sudden because accidents aren't matters to be handled delicately.
For the Safety Sense P, a dummy was placed on the path of our car, posed like a crossing pedestrian. Again, our special Prius sped toward the fake human being. Even with the nonstop downpour during our testing activity, the car automatically stopped in front of the dummy.
The know-it-alls out there reading this are probably itching to start commenting on our Facebook page about how none of this is new, and how Volvo and Mercedes-Benz have been doing these for years. Yes, we know the Europeans already have these features up and running in their cars. The difference is that a mass car brand like Toyota is doing it.
With the world's biggest carmaker supporting these safety systems, there will be a palpable effect on motoring well-being worldwide. Once majority of Toyotas are equipped with these Safety Sense packages--and because its models are so widely used--motorists everywhere will be safer.
But will the systems work? More than seeing and feeling them for ourselves, we know Toyota won't risk rolling out untested and half-baked features. It has gone through the crucible of the biggest automotive recalls in recent history, and this is a company that learns from its mistakes.
When will these arrive in our market? When will we have Vios sedans that can stop themselves and stop sleepy taxi drivers from getting into accidents? As always, the topic of market-specific introductions is always sketchy during technology tours like the one we attended last week. So we don't have confirmation yet.
For now, Toyota just wants to present its vision of safety for the near future, and it's a concept worth looking forward to. We may not know specifically when a Camry with a Radar Cruise Control will be on sale in our country, but we're pretty sure Toyota didn't send us to Japan just to enjoy good ramen.
Photos by Dinzo Tabamo