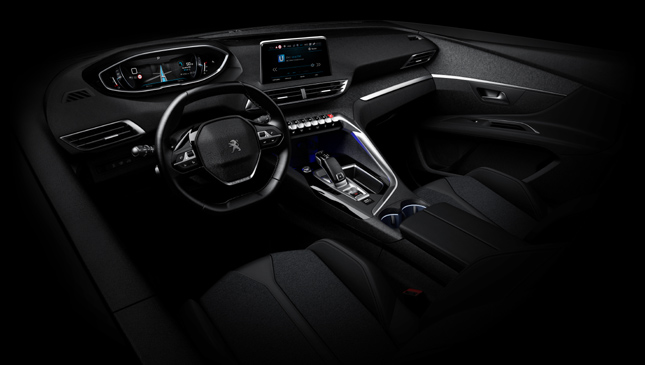 When it comes to car interiors, Peugeot is one of the best in the business. The French carmaker is responsible for some of the most sophisticated and professional-looking cabin designs in the industry. But not wanting to rest on its laurels, the company continues to look forward to the future of cockpit innovation. And so Peugeot has unveiled the next generation of its i-Cockpit, and it's as handsome as we've come to expect.
The new i-Cockpit puts emphasis on the driver's sensory stimulation, aiming to enhance his experience behind the wheel. The most notable design change is the all-new 12.3-inch high-resolution heads-up instrumentation display (HUD). For those still unfamiliar with the system, it displays all of the vehicle's pertinent information within the driver's field of view--effectively eliminating the need for him to take his eyes off the road.
The steering wheel has received an overhaul, with the center now sporting an octagonal shape. The product of the design change is a much edgier and more futuristic-looking tiller. The interior's angular new look is further enhanced by sleeker air-conditioning vents and a polished metal trim. Passenger seats will now also be equipped with a multipoint massager, while musical atmospheric settings and a fragrance diffuser allow occupants to customize the interior's ambience.
Continue reading below ↓
Recommended Videos
To make the drive more comfortable and responsive, Peugeot designers also moved the steering wheel closer to the driver. The shorter distance results in the driver exerting less effort when making maneuvers. Other new features found in the latest i-Cockpit include a new eight-inch touchscreen infotainment system, hands-free device control capability, and auto text message management.
Peugeot says that the new i-Cockpit will be featured in the next generation of the company's cars. The i-Cockpit concept was first launched in 2012, while the latest version was revealed at the 2016 Geneva International Motor Show. With the future of vehicle interiors just right around the corner, we wonder what we can expect from other carmakers looking to keep up with the times.