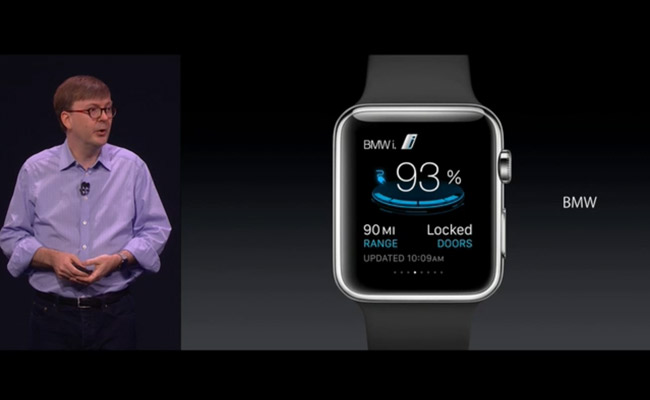 Unless you were living under a rock last week, you might have heard that Apple launched its newest iPhones as well as the Apple Watch. As usual, the tech industry and the rest of the world received the news excitedly.
Amid all the announcements, one interesting bit of automotive info stood out. When Kevin Lynch, Apple's vice president of technology, was demonstrating the features of the Apple Watch, he flipped through its apps, showing what the smartwatch can do. In one app screen, the BMW logo became visible.
Lynch explained: "BMW lets you see the charge level in your car, and if you forgot where you parked your car, the watch will show you a map to where you parked your car, and lead you back to it."
We presume Lynch is referring to BMW's electric cars like the i3. And it certainly fits with what BMW has told us in the past, about how the i-Series is not just about the cars, but also about promoting an eco-conscious lifestyle.
Some might recall that BMW already attempted to do something similar with Samsung's smartwatch, the Galaxy Gear, early this year. But we haven't heard of any recent developments on that end.
Apple demonstrated some nifty features with its new device, something we'd appreciate in any car. But Apple Watch or not, we do hope BMW brings in its i-Series electric cars here. Our smoggy metropolis needs all the help it can get.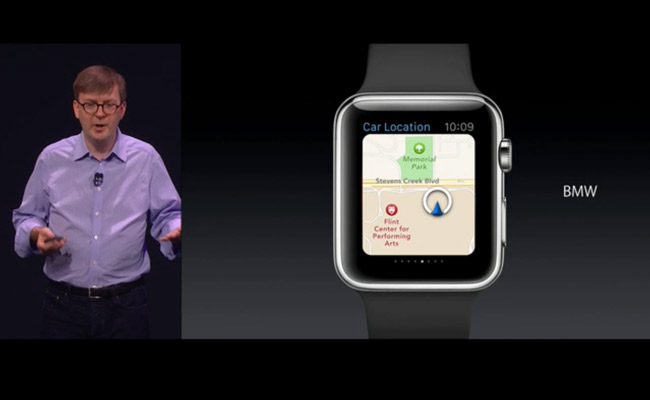 ADVERTISEMENT - CONTINUE READING BELOW ↓
ADVERTISEMENT - CONTINUE READING BELOW ↓
Recommended Videos