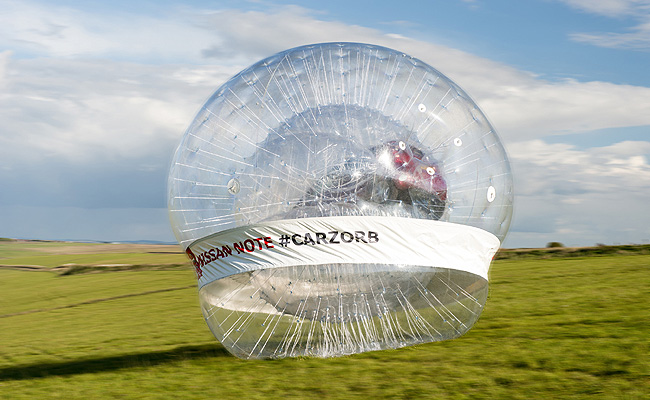 The Nissan Note mini MPV is packed with high-tech safety features like lane departure warning, blind spot warning, and moving object detection. Combined, these features form Nissan's Safety Shield, which relies on a 360-degree around-view monitor technology.
To highlight this Safety Shield technology, Nissan created and placed the Note inside "the world's biggest working zorb."
Measuring 6m in diameter and more than 18m in circumference, the CarZorb, as it is called, was rolled down a steep hill in a military training facility in the United Kingdom with the Note safely tucked between two inflatable layers.
"The Note has been carefully engineered to provide motorists with a whole range of technology that creates a protective bubble around you and your car," said Nissan Europe vice president for strategy and marketing Bastien Schupp. "Our Safety Shield technology in particular is unrivaled among other small family cars. Creating a life-size CarZorb to highlight the technology is an exciting and memorable way of reminding people about the benefits of Nissan's Safety Shield."
The stunt was reportedly staged to mark the Note's first anniversary in the European market. Watch the video.
If you're viewing this on a mobile device and can't see the video, please click here.
Continue reading below ↓
Recommended Videos