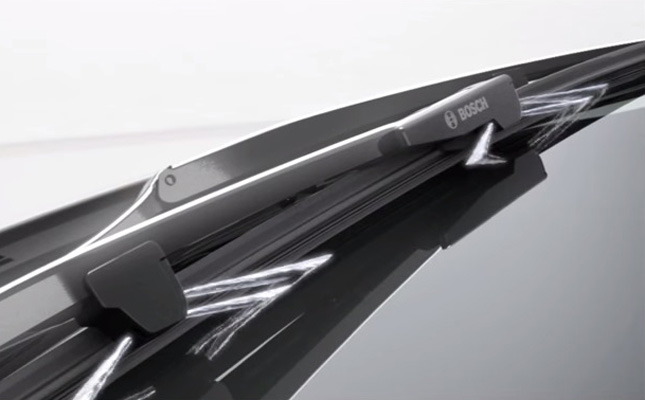 The Volvo XC90 is equipped as standard with the latest innovation to windshield wipers, courtesy of automotive spare parts manufacturer Bosch, and it's called the Jet Wiper system.
The Jet Wiper system is an innovative wiper arm fitted with spray nozzles, thereby distributing the washer fluid evenly on the windshield and ensuring that the windshield is cleaned over the entire length of the wiper blade.
According to Bosch, the system not only ensures that the driver's vision isn't impaired by spray mist, but also reduces windshield washer fluid consumption by as much as 50%. This is made possible by the reversing wiper drive and the system's integrated electronics, which monitors the wiper's position on the windshield at all times. When activated, the windshield is sprayed with washer fluid only when the wiper arm is moving upward. This way, the washer fluid is immediately spread by the wiper blades and distributed over the entire windshield.
Also, as the vehicle's speed increases, the spray of a conventional system is diverted by the airflow, which results in the windshield not being cleaned completely. With the Jet Wiper system, the airflow is negated since the washer nozzles are integrated onto the wiper arm. In addition, the spray nozzles are fitted with tiny valves that open when the system is activated, and close as soon as spraying is finished, eliminating subsequent drips.
"The Bosch system thus provides optimum cleaning along the entire wiper blade," said Bosch Electrical Drives division president Bernhard Straub.
ADVERTISEMENT - CONTINUE READING BELOW ↓