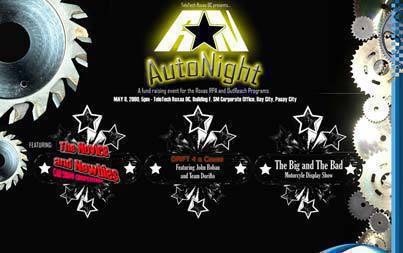 True to the call center lifestyle, business outsourcing firm TeleTech is holding its first car show at twilight on Friday.

Cars of all kinds will gather at the Building F parking lot of TeleTech's Roxas Delivery Center across the SM Mall of Asia in Pasay City for exhibits and competitions.

TeleTech AutoNight competitions, however, are closed to professional competitors to encourage more newbie car enthusiasts to show off their rides.

To recognize the growing number of motorcycle riders on the streets, 'Best in Show' awards will also go to the best motorcycles on display that night.

The TeleTech AutoNight will also feature a Loudmatch competition for both cars and bikes. Judges are from the countries top auto shops and carmakers.

To spice things up, car wash babes will be present on top of a drift exhibition by John Boban, Castrol Edge Drift Underground Series Champion, and Team Driftzone and Team Dorifto.

TeleTech AutoNight is a fund-raising event for the Roxas Pride Awards, which recognizes the outstanding contribution of TeleTech employees to the country. It was initially scheduled for May 8 but a typhoon warning that weekend prompted organizers to reset the date to May 22.

The event is open to the public.

Continue reading below ↓
Recommended Videos