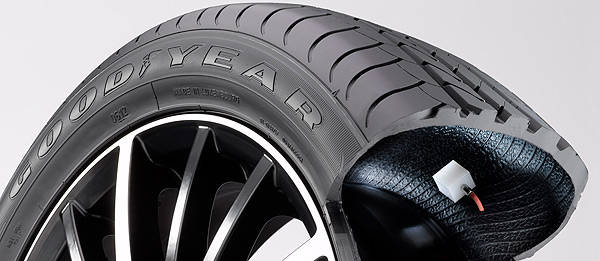 Unveiled only in September, Goodyear's self-inflating tire has been named by Time magazine as one of the "Best Inventions of 2012."
Known as Air Maintenance Technology, the system behind the self-inflating tire works when it detects that the tire-inflation pressure has dropped below the pre-specified pressure. An internal pressure regulator opens to allow air to flow into a pumping tube. As the wheel turns, the flattened part helps squeeze air from the tube through an inlet valve and into the tire.
"We are honored to be named as one of Time magazine's 'Best Inventions of 2012'," said Goodyear chief technical officer Jean-Claude Kihn. "A tire that can maintain its own inflation is something drivers have wanted for many years. This is the kind of technological breakthrough that people will recognize."
But wait. Don't rush off to your nearest Goodyear outlet since Air Maintenance Technology-equipped tires are "not yet available for purchase."
ADVERTISEMENT - CONTINUE READING BELOW ↓
ADVERTISEMENT - CONTINUE READING BELOW ↓
Recommended Videos