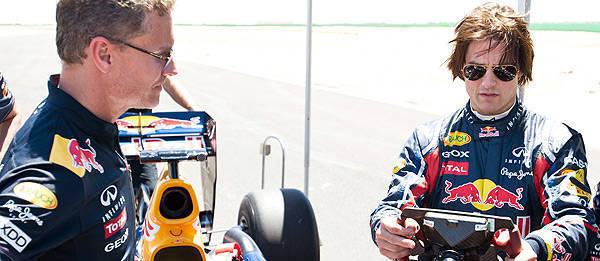 Hollywood superstar and brief Top Gear 'Star in a Reasonably Priced Car' record holder Tom Cruise was recently invited by Red Bull Racing to try out its Formula 1 car. Apparently, Cruise impressed former Red Bull Racing driver and 13-time grand prix winner David Coulthard enough for the square-jawed Scotsman to call the thespian "the real deal."
Cruise is an avid motor racing fan who, with the exception of a Formula 1 car, has driven various race cars over the years. With Red Bull Racing spending the Formula 1 summer break in the United States, the team invited Cruise to test drive its 850hp Formula 1 car around the four-kilometer Willow Spring race track in California.
The day started with Cruise and Coulthard lapping the track in a passenger car to familiarize themselves with the racing lines before Coulthard showed Cruise the intricacies of driving a Formula 1 car. Coulthard then drove around the track in the Formula 1 car for a few laps before handing over the wheel to Cruise. Cruise then completed 24 laps during the seven-hour session, reaching a top speed of 291kph--just 6kph slower than Coulthard's top speed on the track--and improved on his initial lap time by almost 11 seconds by the final lap.
"Tom's the real deal. I was surprised that he picked it up so quickly and is such an accomplished driver," said Coulthard. "His recall was incredible considering how complicated driving an F1 car is. He's a guy who really pushes the envelope in real life. This day was not green screened. He thoroughly impressed me."
[gallery]1016[gallery]