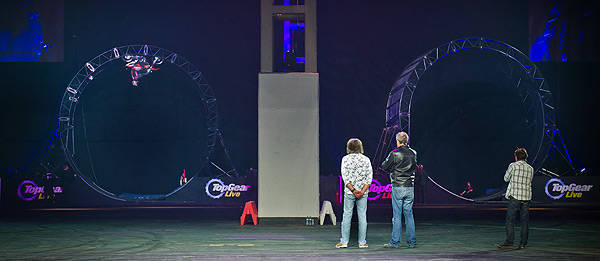 Top Gear has another world record tucked under its belt after the Top Gear Live stunt team successfully completed the world's first double loop-the-loop on a motorcycle. Called the "Deadly 720+," the stunt comes just four months after the team also set a new world record with the "Deadly 720," which has been recognized by Guinness World Records as the the "First Double Loop by a Car."

The stunt was achieved using the same 8m-tall pair of steel loops used in the Deadly 720 with stunt man Gary Hoptrough riding a standard KTM 250 SX-F with recalibrated dampers to cope with the extreme demands.

"I can't believe we've actually cracked it here at the Birmingham National Exhibition Center in front of a live audience after so many issues in the buildup to the show," said Top Gear Live creative director Rowland French. "Having now done the Deadly 720 on four and two wheels, I have no idea what we'll dream up next. But you can trust us to come up with something even more astonishing."

Check out the video below to see the stunt and to hear what some guy named Ken Block as well as the Top Gear trio have to say about the stunt.
If you're viewing this on a mobile device and can't see the video, please click here.
Continue reading below ↓
Recommended Videos