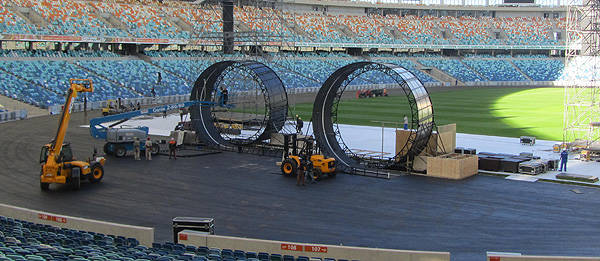 For Top Gear Live, the show's stunt team was the first to successfully complete a single loop-the-loop using a car in an indoor arena. This weekend, on June 16 and 17, at the Top Gear Festival in the Moses Mabhida Stadium in Durban, South Africa, the team will once again aim for a world record when it attempts to become the first to successfully complete a double loop-the-loop stunt.
Called the 'Deadly 720', the stunt will be attempted in a specially converted buggy that's been fitted with hand controls to lock out the accelerator pedal during the stunt as the extreme g-forces experienced would reportedly force the driver's foot onto the throttle which would result in a near-certain crash.
With speed being one of the critical factors in performing the stunt, the buggy's dashboard has been fitted with a large shift light that switches from red to green when the vehicle is running at a speed sufficient enough to complete the loops. Meticulous calculations have reportedly revealed that the buggy must enter each loop with a speed of between 39kph and 42kph. If the buggy enters the loop too slowly, it will supposedly fall from the top of the loop while a small increase in speed would result in extra G-forces being exerted on the driver, causing him to black out. In addition, the buggy needs at least a 30m run-up to gain enough speed to complete the first loop but only has 8m between the two loops to regain the speed lost during the first 360-degree maneuver.
ADVERTISEMENT - CONTINUE READING BELOW ↓
"Absolutely everything has to be in perfect alignment from the suspension compression and precise steering angle to the exact speed of entry," said Top Gear Live creative director Rowland French. "If one element falls out of sync, there is no chance of the driver making the second loop. It is this split-second nature of the stunt that allows so much to go wrong, and it is what terrifies me."
ADVERTISEMENT - CONTINUE READING BELOW ↓
Recommended Videos