To serve you better, we've tied up with an industry giant. Now, shopping for a car need not be complicated and stressful, thanks to our new partnership with BPI Family Savings Bank (BFSB). Getting the right car at the right price with the right specs takes a lot of effort and hours of research. Hours of combing through different websites, forums and magazines can be quite mind-boggling. Then, of course, the actual financing of the car can be an even bigger headache. So imagine having all the information you need in one place. This is exactly what Top Gear magazine and BPI Family Savings Bank bring to car buyers everywhere.
The two giants of the auto industry have come together in a show of synergy at its best. Through a partnership, the two companies play to their strengths and bring more value to car buyers throughout the country by bringing together Top Gear's New Car Guide and BPI Family Savings Bank's Total Auto Loans Solution. With Top Gear's database of cars and BFSB's expertise in auto-loan financing, Filipinos can be sure to make the right choice of car model and then make it a reality through the bank's auto loans.
Continue reading below ↓
Recommended Videos
"This unique and timely partnership between us and Top Gear is an initiative I'm sure numerous Filipinos will appreciate," says David Sarmiento Jr., BPI Family Savings Bank's head of auto and motorcycle loans division. "With the combined expertise of BFSB and Top Gear, auto-loan borrowers and car enthusiasts can make informed purchases that are right for their tastes and budgets. BFSB aids Top Gear readers in making their dream cars a reality, while BFSB auto-loan clients can make the right car choice through Top Gear's New Car Guide. It's a win-win situation for all."

"People who are in the market for a new car come to us for details and information, and to BPI Family Savings Bank for financing assistance," adds Vernon B. Sarne, Top Gear editor in chief. "It's only natural that we join forces to make the car-shopping process as convenient and enjoyable as possible, for as many people as possible."

Top Gear's New Car Guide is also accessible on TopGear.com.ph and on the soon-to-be-launched BPI Family Savings Bank website. Interested individuals can check out all the necessary details needed when it comes to buying a car-from engine displacement to exterior dimensions and market price. An exciting feature of the site is that it gives users the ability to do a side-by-side comparison of two competing models. Users are also given the choice of checking out the car of their choice through categories like price range, classification and engine power. Moreover, the database also features a loan calculator that enables potential buyers to purchase their cars with financial prudence.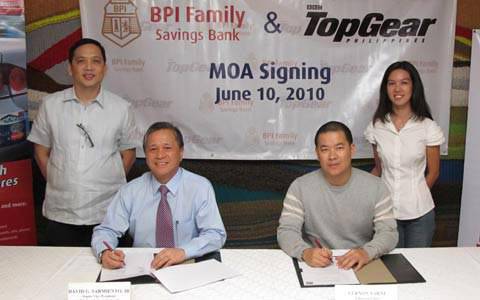 (From left) Herbert Tuason, BFSB product marketing head; David Sarmiento Jr., head of auto and motorcycle loans division; Vernon B. Sarne, Top Gear editor in chief; Barbara Lorenzo, TopGear.com.ph managing editor