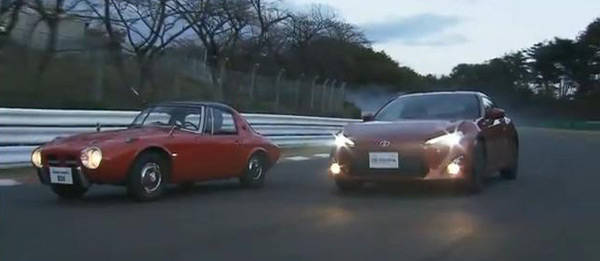 The Toyota 86 is the latest in the Japanese carmaker's long line of sports car. To pay homage to 86's humble origin, Toyota had its newest rear-wheel drive sports coupe share the track with its very first production sports car--the Sports 800.
While the size difference is easily apparent, a common feature shared by the 86 and the Sports 800 is that both cars use a boxer engine though the former has a 2.0-liter flat-four cylinder while the latter utilized a 0.709-liter flat-two.
Of course, the 86 paying its respects to its predecessors wouldn't be complete without featuring the car that inspired it--the AE86.
Watch the video to see the 86 not only share the track with the Sports 800 and the AE86 but to also catch its prototype doing some test runs on the snow and even around the Nurburgring.
If you're viewing this on a mobile device and can't see the video, please click here.
ADVERTISEMENT - CONTINUE READING BELOW ↓
ADVERTISEMENT - CONTINUE READING BELOW ↓
Recommended Videos