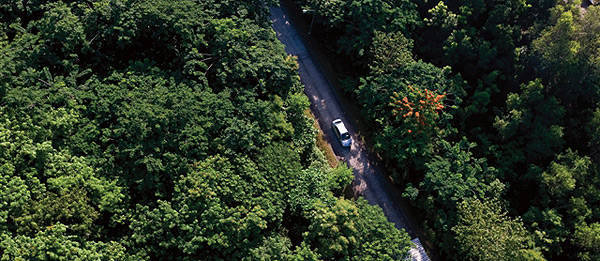 Toyota designated June as the Japanese carmaker's Environment Month and Toyota Motor Philippines (TMP) capped its recent celebration with the inauguration of the Toyota Manufacturing Eco Center in its Santa Rosa, Laguna, plant.
Designed to represent a microcosm of TMP's environmental initiatives in its facilities, the Eco Center boasts numerous elements that have been purposely built to showcase the carmaker's drive for sustainability.
A mini lagoon, for example, is filled with water from TMP's wastewater treatment plant that the carmaker ensures to comply with government standards. Fish inhabit the lagoon to serve as indicators of the water's quality.
Another feature is the constructed wetland, which is actually an artificial wetland that may be used to treat wastewater. It also acts as biofilter by removing sediments and pollutants such as heavy metals.
A vegetable garden that makes use of vermicast is also raised and maintained in the plant. Vermicast is a product of vermicomposting where earthworms are used to decompose organic matter, which then serves as fertilizer or soil conditioner.
ADVERTISEMENT - CONTINUE READING BELOW ↓
Lastly, the Eco Center makes use of a greenroof in which a roof of a building is partially or completely covered with a waterproofing membrane, which is then subsequently covered with vegetation. One of the benefits of having a greenroof is that it reduces the heat from the sun that permeates through the roof which, in turn, reduces the electrical consumption of air-conditioners.
Another environmental measure done by TMP is the maintenance of the 11.4-hectare forest, which surrounds its plant. The "Toyota Forest" is filled with trees and secondary growth, and is home to many species of birds. TMP also has its own tree nursery where the carmaker sources the seedlings that it donates regularly to local government institutions and other private organizations.
"While we have made good progress on these initiatives, we shall continuously strive to keep moving forward in protecting and enhancing our environment. More than just complying with environmental regulations, Toyota will endeavor to inspire and lead toward further ecological advancement," TMP president Michinobu Sugata said in a statement.
ADVERTISEMENT - CONTINUE READING BELOW ↓
Recommended Videos