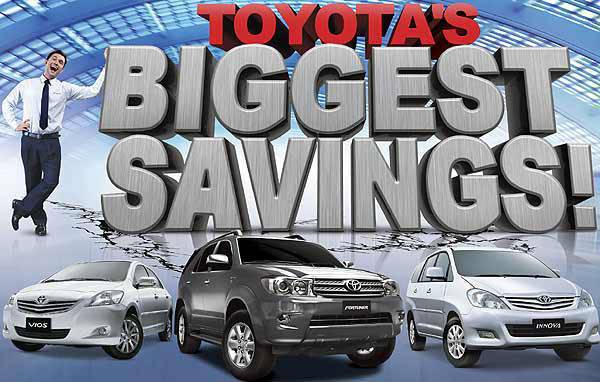 Industry giant Toyota Motor Philippines has beefed up its promo lineup with a new package and a new vehicle to offer at affordable rates.
In Toyota's Biggest Savings promo, the car company is offering the Toyota Fortuner sport-utility vehicle along with regulars Innova and Vios through its easy-ownership plans.
Toyota's "Pay Low" promo allows clients to bring home either the Vios, the Innova, or the Fortuner for a down-payment of just ten percent (P65,000 for the 1.3-liter Vios E with MT, P79,300 for the gasoline-fed Innova J, and P134,900 for the 4x2 Fortuner G diesel with MT).
Under the "Pay Light" promo, a 50-percent down payment will allow the buyers to pay for the three aforementioned vehicles in installments of up to 72 months, with the Vios at P6,400 per month,  the Innova at P7,400 per month, and the Fortuner at P14,000 per month.
With the "Pay Cash" option, buyers can get the 4x4 Toyota Fortuner V diesel AT with an P80,000 discount, while those getting the diesel-fed Innova V-E can save as much as P40,000 and those who choose the Vios 1.5 G and 1.3 E can save P30,000.
Toyota's new package, the "Pay Later" program allows buyers to start their monthly installment 90 days after they pay a ten percent down-payment for their Toyota vehicle.
Toyota's Biggest Savings promo runs until June 30.
Click this link to see the entire lineup of Toyota vehicles in the Philippine market.