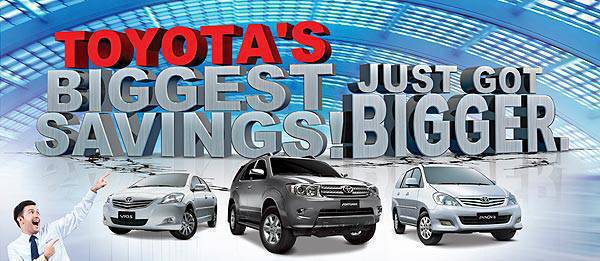 Toyota's Biggest Savings promo just got bigger with all Fortuner and Innova variants (except for the Sport Runner) now part of the company's on-going offers. The Vios 1.5 and 1.3 E models are also still part of the deal.
In the "Pay Low" plan, potential car owners can get a brand-new Toyota with a ten-percent down payment, which is equivalent to P65,000 for the Vios 1.3E MT, P79,000 for the Innova J (gasoline), P134,900 for the Fortuner 4x2 G (diesel MT). The balance may be paid in a 24- or 72-month term. The deal includes a one-year comprehensive insurance, three-year registration with the Land Transportation Office, and chattel mortgage fee.
In "Pay Light," customers make a 50-percent down payment and then pay off the balance for up to 72 months. In this package, the monthly amortization for the Vios is P6,500, P7,700 for the Innova, and P13,500 for the Fortuner. A zero-interest payment scheme is also available for those who choose to pay the remaining balance in either 12 or 18 months.
In "Pay Cash," Toyota customers are entitled to savings of P40,000 for the Vios 1.5 G with automatic transmission, up to P40,000 for the Innova V and E (diesel), and as much as P80,000 for the 4x4 Fortuner V with automatic transmission (diesel).
There's also the "Pay Later" package that lets customers make their first installment 90 days after they take delivery of their brand-new Toyota.
Toyota's Biggest Savings' "Pay Low," "Pay Light" and "Pay Later" promos are all subject to the credit approval of Toyota Financial Services. Promo runs until September 30.