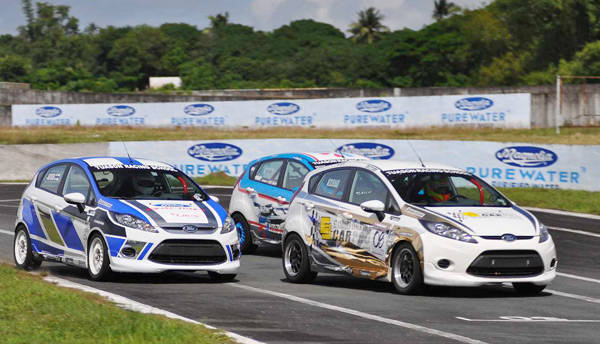 We salute Tuason Racing School for continuing to promote motorsports in the Philippines in spite of the many challenges--chief of which is financial backing. Last Sunday, August 26, JP Tuason and company held TRS Raceday at the Batangas Racing Circuit. The event is described by Tuason as "the Philippines' grassroots motorsports festival." By his reckoning, Tuason estimates that there were "more than 100 cars" that participated in the race events lined up for the day.
The centerpiece of these events was the opening leg of the TRS Cup, which featured a colorful, 12-car grid consisting of expert and novice drivers. The expert drivers were Stuart MacDonald, Sean Redpath, Alvin Ng, Leo San Juan, Juha Roiha, and Charlie Cojuangco. The novice drivers, meanwhile, included karting champion Basti Escalante, Yvanna Carangan, TJ Chong, Mickey Kim, and newcomer Jussi Hoikka.
If the first races of the new TRS Cup season were anything to go by, racing fans definitely have a lot to look forward to.
The first race saw Hoikka starting in pole position, followed by Redpath and Escalante, who quickly seized the lead at the green light. The drivers then proceeded to swap positions in the next few laps, until the eventful fifth lap. On Lap 5, it was Redpath, Escalante and Cojuanco fighting for the lead, but the two expert drivers (Redpath and Cojuangco) squeezed Escalante into the last sweeping turn, eventually pushing the latter out of the race.
Continue reading below ↓
Recommended Videos
Redpath was then given a 10-second penalty as a consequence, which handed the victory to MacDonald. Hoikka, meanwhile, was the winner in the novice class.
In the second race, which was generally incident-free, MacDonald started on pole but was penalized for a jump start. The race ended with Redpath claiming the victory, trailed by Cojuangco and Kim.
In the third and last race of TRS Cup's opening leg, MacDonald did a good job of launching himself from the starting grid to take an early lead. Behind him were Hoikka, Redpath, Ng and Cojuangco. After several position switches, Cojuangco bravely dove full-speed into Turn 2, making contact with Hoikka in the process before hitting the tire barrier (see related story here). Cojuangco suffered a shoulder injury but was able to walk away from the accident.
The third race was won by MacDonald in the expert division, while Hoikka was the top finisher among the novice drivers.
Kudos to TRS as well as the sponsors--Castrol, Bridgestone, Coke Zero, Ford Alabang, TopTul, Aguila Auto Glass, Standard Insurance, OMP, Oakley, Emotions, SpeedLab, and Automobile Association Philippines--for putting on a good show. We can't wait to watch the next leg.