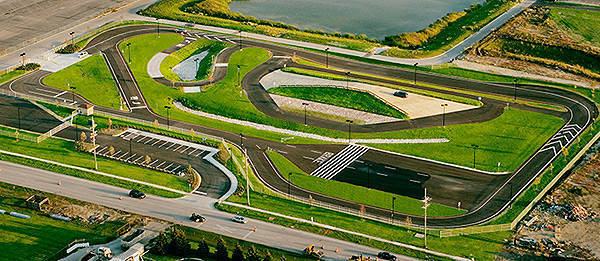 For new-car buyers, the problem with taking a car for a test drive means having to drive it on public roads just a couple of rounds around the block where the dealership is. A city in the United States, however, has found a way to give customers a very thorough experience behind the wheel of a test-drive unit in a safe and controlled environment. Consumers in Naperville, Illinois, now have a track solely for the use of cars buyers who want to test the vehicles they're shopping for.
According to Cars.com, the test track located in Illinois was conceived to reduce the number of test drives on public roads. Funded by the city and 11 participating car dealers in the area, the track is reportedly equal in size as a large mall's parking lot--enough space to allow a car to go as fast as 60kph on the straights and acceleration sections. Too bad there's not enough real estate to experience high-speed highway driving on the track, though.
Different road surfaces are also present on the track to simulate road conditions like a railroad crossing, a cobblestone road, even a hill with a 10-percent grade. Pickup trucks and sport-utility vehicles can also test their capabilities on a rock-filled strip of road similar to that found in construction sites.
The most valuable section of the track, however, is the emergency braking area where the braking zone is sprayed with water, allowing the car buyer to hit the brakes hard without worrying about rear-end collision. It also helps them experience the car's antilock brakes, which is an odd sensation for anyone who hasn't experienced the pulsating brake pedal in an emergency stop.
ADVERTISEMENT - CONTINUE READING BELOW ↓
"The track is a great opportunity to test the vehicle in ways that cannot always be done safely on public roads, but should be combined with a more traditional route for a complete test drive," Cars.com concluded.
This sounds like a good idea. If Metro Manila were to have a similar facility, where do you think should it be located? Post your thoughts in the comment box below.
Photo from www.naperville.il.us
ADVERTISEMENT - CONTINUE READING BELOW ↓
Recommended Videos