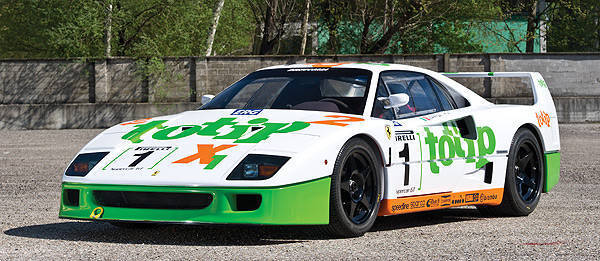 The Ferrari F40 holds a special place among followers of the famed Italian marque as it was the very last model to be commissioned by the carmaker's founder, Enzo Ferrari. What makes this unit extra special, however, is that it is reported to be one of only eight F40 prototypes made by Ferrari.
According to RM Auctions, the auction house that is handling the car's sale in Monaco next month, this particular model "was used primarily for press conferences and display at public events," the first of which was the 1987 Frankfurt Motor Show. In 1991, the car was serviced by Michelotto where it received several race-oriented modifications like a ride height that's been lowered by five centimeters, engine tuning to bump its output from 478hp to 590hp, upgraded Brembo brakes, a racing uniball suspension, a quick-fill fuel system, the installation of extra NACA cooling ducts, a fire system and wider Speedline wheels.
Following its GT racing conversion, the car was sold to an Italian private racer who campaigned the car in the Italian Supercar GT Championship, where it ran until the 1994 season and claimed three first-place finishes and 11 second-place trophies. The car even finished its debut season in 1992 in second overall.
Continue reading below ↓
Recommended Videos
Following its last season in 1994, when the car was repainted in white and topped with ToTip livery, it was sold to a renowned collector in Milan "and has since been sparingly driven and dutifully maintained."
Helping to prove the car's heritage and racing pedigree, its auction will include a comprehensive binder of factory-certified, point-by-point evaluations from Ferrari Classiche confirming its racing career and that it retains its original engine as well as the full build sheets detailing its extensive modifications from Michelotto.
"From the extreme rarity of its identity as an F40 prototype and one of very few officially upgraded F40 GT specification cars, as well as its documented and highly successful racing history and display at the 1987 Frankfurt Motor Show, this beautifully presented and blisteringly fast F40 Prototype/GT is one of the most desirable examples of the celebrated supercar ever offered for sale," RM Auctions said in a statement.