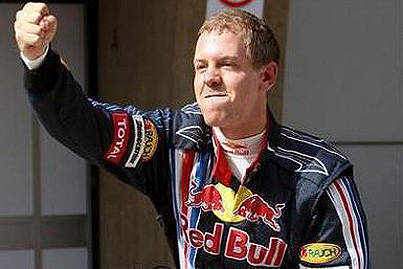 Sebastian Vettel of Red Bull Racing grabbed the best spot to race at the Turkish Grand Prix as he takes pole position later today.

"I think we have a very good chance here with a very good car," Vettel told the press after the qualifying rounds in Istanbul.

It may be recalled that drivers who took pole position in the past four Turkish GP races also ended at the top of the podium.

The Red Bull driver was trailed by the boys from Brawn GP with Jenson Button taking P2 and Rubens Barrichello on P3.

"We all love statistics and as you say every pole position man here has won. We are going to try and change that," Button said in the same press conference.

Ferrari's Felipe Massa, who won the last three Turkish GP, will race at P7 later. Can he manage a fourth straight win? Or will his teammate Kimi Raikkonen, the only other driver who has won in Turkey so far, do the honors for Ferrari?

About the track

Formula 1 drivers take on another Hermann Tilke-designed track in Turkey. It is one of the four circuits on the F1 calendar that is run counter-clockwise.

It has been said that the Istanbul Park Circuit is Tilke's homage to some of the world's most famous race tracks.

The first corner resembles the first corner of the Autódromo José Carlos Pace - home of the Brazilian Grand Prix. The long, flat-out kink at the eleventh corner is similar to the Eau Rouge corner of the Belgian Grand Prix home circuit, the famous Circuit de Spa-Francorchamps. The uphill-downhill section going into the third corner similar to the famed corkscrew corner of Laguna Seca.

More than just these "replica" corners, the Istanbul circuit has both fast and slow corners that make it one of the most technically challenging tracks on the F1 calendar.

One such example are the tricky blind corners between the first and sixth. There's also the track's famous four-apex eighth corner that requires the most skilled driver to take the perfect racing line or risk losing time.

The race in Turkey starts at 3 p.m. Istanbul time (8 p.m. in Manila).