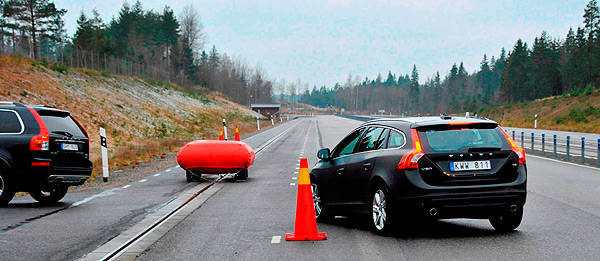 Volvo Car Corporation is taking a major step toward its goal that nobody should be killed or seriously injured in one of its cars by 2020 by studying the driving behavior of today's drivers.
"We are taking clear steps in the right direction," said Jan Ivarsson, senior manager for safety strategy and requirements at Volvo. "We have a number of research projects with the aim to develop technologies for future Volvo models."
Many of the new technologies being developed by the Swedish carmaker are tailored to the way drivers behave in the modern traffic environment.
"In the modern mobile society, we bring our social lives with us wherever we go," Ivarsson added. "The car is no exception. For us, it's quite simply a matter of creating technology that provides the driver with the right support at all times."
Volvo's ongoing research focuses on three main areas: staying safely in the current lane, avoiding accidents at crossroads and junctions, and avoiding collisions with wild animals.
Volvo's Autonomous Driving Support system helps the driver stay in his/her lane and follow the rhythm of the traffic if the queues build up. Using data gathered from a camera and radar sensors, the car can follow the vehicle in front with the engine, brakes, and steering responding automatically. If the vehicle in front is forced to make a quick move because of an obstacle on the road, the driver is assisted by the steering system by making the car veer in the same direction.
Continue reading below ↓
Recommended Videos
For crossroads and intersections, Volvo is developing its Intersection Support system, which is a research project developed by the carmaker in collaboration with the Department of Signals and Systems at Chalmers University of Technology. The system alerts and automatically brakes for crossing traffic when necessary by using its sensors to assess the entire traffic scenario.
Another system that Volvo is currently working on is its Animal Detection system, which is a further development of its pedestrian protection system. It detects and automatically brakes for animals both in daylight and in the dark. The system is reportedly trained to recognize the shapes of animals and their movement patterns via a vast amount of collected data.