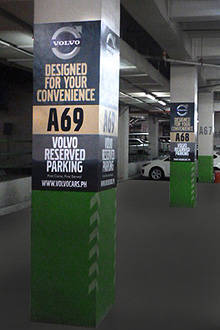 Let's face it: The number of stores at Eastwood Mall is disproportionate to the limited number of parking slots available in the area. Fortunately, that won't be a problem if you're driving a Volvo.
The Swedish carmaker's Philippine-market distributor, Volvo Philippines (formally known as Viking Cars), has allotted reserved parking slots for Volvo owners when the latter drive to the Eastwood Mall in their respective vehicles. According to Volvo Philippines, this measure stays true "to its commitment of understanding people and putting them at the center of operations" by giving them the kind of convenience they need.
Volvo Philippines also knows the volume of traffic inside the Eastwood Mall complex, which is why it also has informative car parking signs that will not only guide mall users but also share useful information, like how expectant mothers should use the seatbelt properly.
"Volvo Philippines continues to explore avenues that will enhance convenience, comfort and safety so that every Volvo owner gets to focus on what's ahead and have more opportunities to share and celebrate life," Volvo Philippines said in a statement. "All these are part of our continuing commitment to our promise of a unique Volvo contemporary luxury experience that is truly designed around the customer."
ADVERTISEMENT - CONTINUE READING BELOW ↓
ADVERTISEMENT - CONTINUE READING BELOW ↓
Recommended Videos