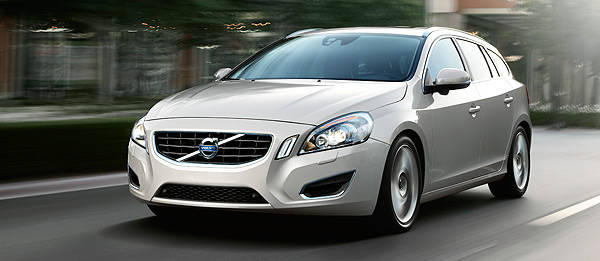 Volvo topped a test conducted by Europe's biggest auto club that, for the first time, pitted the emergency brake-assist systems from six carmakers in different collision situations at the same time.
For the test, the Allgemeiner Deutscher Automobil-Club e.V. (ADAC) rounded up the Audi A7, the BMW 530, the Infiniti M37, the Mercedes-Benz CLS, the Volkswagen Passat and the Volvo V60. Of the six cars, the Volvo V60 was the only one to achieve a "very good" rating.
To test the system, various traffic scenarios were simulated like colliding with a vehicle traveling at low speed, colliding with a braking vehicle, colliding with a vehicle that has come to a stop and colliding with a stationary vehicle. In all these scenarios, Volvo's emergency brake-assist system convinced ADAC's testers with its reliable operation as it made the V60 either automatically avoid the collision or decelerated it so that the impact velocity was massively reduced.
"The Volvo V60 wins the comparative test and is the only one to obtain a very good rating. The autonomous braking just before a collision greatly reduces impact energy, so that the severity of the accident is mitigated," said Dino Silvestro, vehicle test project manager at ADAC's Landsberg Technology Centre which conducted the test. "The City Safety System can even completely prevent collisions at low city speeds. In addition, the Swedish system achieves convincing results with its good collision warning and effectively acting automatic brake support."
ADAC had tested various automatic speed and distance control systems at different times early last year. In one of those tests, a Volvo XC60 emerged as the winner with ADAC's testers praising the car's emergency brake assist system's emphasis on accident avoidance.

"ADAC has systematically gone through collision situations that are the most important in real traffic, for both warning functions and emergency braking. ADAC has also tested difficult situations where the systems are not supposed to give warning and then weighed that in with the total results," said Volvo's active safety chief Jonas Ekmark. "The tests selected by ADAC are similar to those we ourselves identified as the most important during system development. So the strengths of our V60 comes through very well in the result."