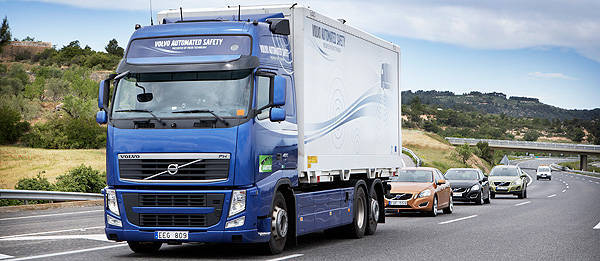 After months of testing on private tracks in Spain and Sweden, Volvo's experimental road train has finally been run in public where it shared the road with other motorists.
Known as the SARTRE (Safe Road Trains for the Environment) project, the road train consists of a lead vehicle driven by a professional driver that's followed by a number of vehicles. Building on Volvo's already existing safety systems--like cameras, radar and laser sensors--the vehicles monitor the lead vehicle and the other vehicles in their immediate vicinity. By adding in wireless communication, the vehicles in the platoon "mimic" the lead vehicle using autonomous control--accelerating, braking and turning in exactly the same way as the leader.
According to Volvo, the project "aims to deliver improved comfort for drivers, who can now spend their time doing other things while driving." Another aim of the project is to improve traffic safety, reduce environmental impact and--thanks to smooth speed control--cut the risk of traffic tailbacks.
ADVERTISEMENT - CONTINUE READING BELOW ↓
The four vehicles that made up the historic road train were a Volvo FH truck, an S60, a V60 and an XC60.
"Driving among other road users is a great milestone in our project, and it was truly thrilling," said Linda Wahlstrom, Volvo's manager for the SARTRE project. "The vehicles drove at 85kph. The gap between each vehicle was just 6m. During our trials on the test circuit, we tried out gaps from 5m to 15m."
The SARTRE project has been under way since 2009, with the vehicles having covered approximately 10,000km. After the test on public roads in Spain, the project will enter a new phase "with the focus on analysis of fuel consumption."
ADVERTISEMENT - CONTINUE READING BELOW ↓
Recommended Videos