The Volvo XC60 that comes with the City Safety technology returns to the silverscreen in The Twilight Saga: Eclipse.
"After the release of The Twilight Saga: New Moon, dealers reported increased interest in the Volvo XC60 and noted that customers came to showrooms to photograph their children in the 'Twilight car,'" Volvo said in a press statement.
Volvo said its partnership with Twilight has boosted its image among youngsters who will eventually be able to buy their own car.
"We are really pleased that the image of the Volvo brand has changed among many of the young people who in a few years' time will be our potential customers," said Oliver Engling, Volvo's promotional campaign manager for the brand's "Lost in Forks" promo.
Now, we may be far from Forks but that doesn't mean our readers can't enjoy some Twilight-related perks.

TopGear.com.ph scored six tickets to an exclusive screening of Eclipse and we're saving them all for three lucky readers.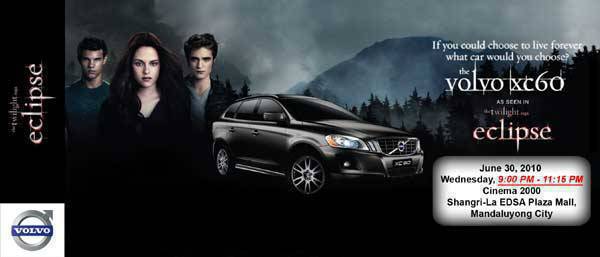 Continue reading below ↓
Recommended Videos
Just answer this question using the comment box below:
Why is the Volvo XC60 the perfect vehicle for Edward Cullen?
This is a one-day promo so make sure you post your answers by midnight. Three senders of the best answers will get two tickets to The Twilight: Eclipse screening, as well as a Volvo XC60 bag and jacket from Viking Cars, Inc.