Are you excited for the Fast & Furious 6 movie? Well, we are, too. That's why we're giving away 40 movie tickets to followers of our Facebook page.
Dubbed "The Best Fast & Furious 6 Look Photo Contest," the promo is open to all Filipino citizens residing in Metro Manila. In order to join, a participant must submit a photo of himself/herself with his/her modified ride in Fast & Furious fashion. To submit a photo entry, visit Top Gear Philippines' Facebook page and click the Best Fast & Furious 6 Look App.
Entries are now being accepted until April 14, 2013. Ten winners will be selected. Each winner will get two tickets to the Asian premiere of the movie. The 10 winning photos will be selected based on the following criteria:
* 50% creativity: Does it encompass traditional ideas related to the theme?
* 20% relevance to the theme: Does it adhere to the contest's objective?
ADVERTISEMENT - CONTINUE READING BELOW ↓
* 20% overall impact: Does it stand out among the other entries?
* 10% number of votes: Collated number of votes per entry
Since the contest has a voting component, we're also giving voters a chance to win movie tickets. Voting is open from April 15 to May 6. To vote, one must be a fan of Top Gear Philippines' Facebook page. Fans may only vote once per day during the voting period. The 10 lucky voters will be drawn electronically on May 8 with the presence of a DTI representative. Each winner will receive two tickets to the Asian premiere of the Fast & Furious franchise's latest installment.
All the winners will be announced on May 10 via the Top Gear Philippines Facebook page. We will also notify the winners via e-mail, phone call and registered mail.
So, upload your photo entry now, and give your friends a chance to win tickets, too, by letting them vote!
ADVERTISEMENT - CONTINUE READING BELOW ↓
Recommended Videos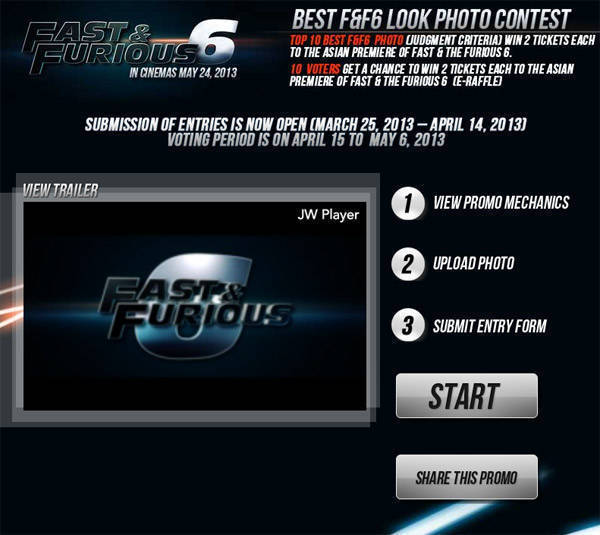 Per DTI NCR Permit No. 1799 Series of 2013