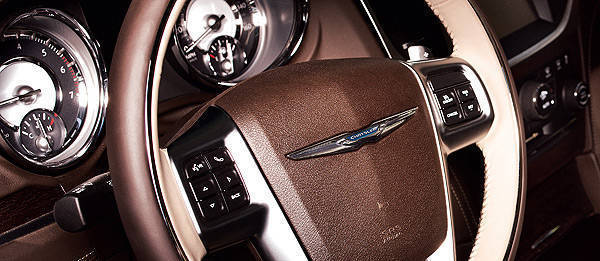 Ward's Auto has named its 10 best car interiors for 2012, and though only three of the cars on the list are currently being sold in the Philippines, four more are either on their way here or could go on sale if there's a demand for them.
"We saw a tremendously diverse group of interiors this year, and it's obvious to us that automakers are pushing their design staffs harder than ever for interiors that are beautifully appointed, well-equipped and extremely comfortable," said Drew Winter, editor in chief of Ward's Auto World.
The three cars on list that are currently available at local dealers are the Chrysler 300, the Hyundai Accent and the Range Rover Evoque.
Ward's praised the 300 in its Luxury Series trim, particularly for its tan-and-brown color scheme and its use of Poltrona Frau leather and deep-grained satin-finish wood on the doors, dash and center console. The publication even went on to say that if Bentley sold an affordable family sedan, "it would look like the 300 Luxury."
Fresh from its 1.6-liter Gamma engine being named by Ward's as one of the 10 best engines for 2011, it's the Accent's interior that's now being praised for its "incredible attention to detail." Ward's, in particular, pointed out the Accent's leather-wrapped steering wheel, the swooping lines of its instrument panel, and the elements of its center stack console that have made the interiors of its stablemates like the Elantra, Veloster and Sonata so appealing.
For the Evoque, Ward's claims that its five-passenger versatility and no-nonsense premium appointments "make it an ideal complement for a brand known for extreme off-roading."
ADVERTISEMENT - CONTINUE READING BELOW ↓
As for the four cars on the list that are either on their way or could find their way here, these are the Audi A7, the Chevrolet Sonic (which will go on sale later this year), the Dodge Dart, and the Mazda CX-5 (which will actually go on sale this weekend).
The rest of the vehicles that make up the 10 best interiors are the Hyundai Azera, the Infiniti JX35 and the Volkswagen Beetle.
"There are too many great interiors in the market for any automaker to think it can stand pat with its current interior offerings and remain successful," Winter added. "Based on some of the vehicles we have seen at recent auto shows, we can tell the competition among interiors will be fierce in the next few years."
[gallery]1200[gallery]
ADVERTISEMENT - CONTINUE READING BELOW ↓
Recommended Videos