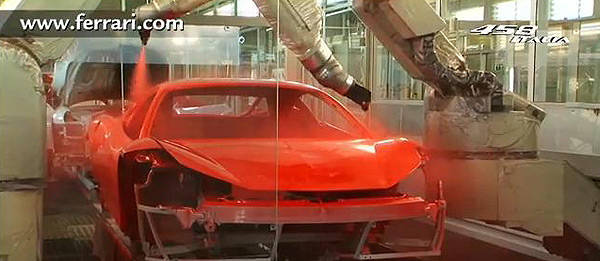 Last May, Ferrari showed us how to work the cockpit of the 458 Italia. Earlier this month, the Italian carmaker showed us how it assembles and tests this mid-engine supercar's powerplant. Now, we're taken to Ferrari's relatively new painting facility to see how a 458 Italia is painted.
When painting a car, Ferrari's first and foremost concern is to protect the environment, which is why the carmaker uses a powder base coat--a process that's exclusive to the brand and produces zero atmospheric emission.
Much of Ferrari's painting process is highly automated and the only time the carmaker's personnel are involved is when they hand-paint the bodyshell's interior with an airbrush.
Ferrari's painting facility also handles the paintwork for Maserati so there's a significant difference when it comes to treating Ferrari's aluminum-bodied cars to Maserati's steel-bodied vehicles.
Ferrari also uses emu feathers as it is apparently the only kind of feather that "can clean in an electrostatically charged environment."
Check out the video yourself to find out how many kilos of paint a 458 Italia uses from the base coat to the clear coat.
Continue reading below ↓
Recommended Videos