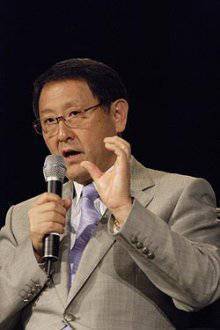 Toyota Motor Corp. president Akio Toyoda has apologized for causing a tremendous concern among motorists using Toyota vehicles following the brand's massive recall over the past two months.
"I deeply regret that I caused concern among so many people. We will do our utmost to regain the trust of our customers," Toyoda said, as quoted by the New York Times, during a press conference in Nagoya on Friday night.
The apology came following Toyota's series of recall announcements, which now involves roughly nine million vehicles worldwide.

"I believe what is happening now is a very big problem. We are in a crisis," said Toyoda, grandson of Toyota's founder.
Continue reading below ↓
Recommended Videos
The New York Times report said Toyoda "appeared very nervous, but seemed cognizant of the long road ahead."
"Toyota remains in a storm but I believe we have charted our course. I hope to return Toyota to profit and contribute to the revitalization of Japan," Toyoda said.
He also emphasized that Toyota is committed to improving its products.
Toyota's next move
Toyoda presented the company's six-point action plan as posted on Toyota's website:
1) Improve Quality Inspection Process - Toyota will once again inspect every process, while verifying the causes that led to the recalls, including quality in design, production, sales and service.
2) Enhance Customer Research - Toyota will enhance the customer information research offices in each region to collect information faster.
3) Establish an "Automotive Center of Quality Excellence" in key regions to further develop quality management professionals
4) Support from Outside Experts - Toyota will seek confirmation and evaluation from outside experts-in line with the industry's best practices-of its newly improved quality control management, based on the above improvements.
5) Increased Communication - In addition, Toyota will work to increase the frequency of communication with regional authorities.
6) Improve regional autonomy - To provide customers with satisfying products in each and every region, Toyota has long promoted the autonomy of its regional subsidiaries. We intend to further enhance this autonomy, listen carefully to each and every customer and improve quality.
Toyota in the Philippines
At least eight Toyota-made vehicles have been recalled due to a sticking accelerator pedal problem, three of which are sold in the Philippines: the Toyota Camry (2007 to 2010), Toyota Corolla Altis (2009 to 2010), and Toyota RAV4 (2009 to 2010). The Toyota Prius, which was launched in the Philippines in June 2009, is also reported to have brake problems.
Toyota Motor Philippines has repeatedly issued statements saying units of the said models sold in the Philippines are not affected by the recall.
Local concerns, however, now focus on other vehicles such as the Toyota Fortuner and the Toyota Innova with 2.5-liter D4-D engines for what ABS-CBNNews.com has reported to be a fuel supply pump problem.
File photo: Toyota president Akio Toyoda at the 2009 Center for Automotive Research Conference