Clients getting out of Chevrolet service centers are the most satisfied customers when it comes to getting after-sales services in the Philippines, a study conducted by J. D. Power Asia Pacific shows.
According to J. D. Power's 2011 Philippines Customer Satisfaction Index Study, Chevrolet ranks highest with a score of 827 points in overall satisfaction for maintenance or repair work in the first 12 to 24 months of owning a brand-new vehicle. It is followed by Suzuki with 821 points and Ford with 811 points.
"Manufacturers and dealerships today realize the bottom-line impact of satisfying owners and are investing in driving service excellence in their dealerships," said Mohit Arora, J. D. Power Asia Pacific's executive director. "The improvements in the industry in 2011 demonstrate this impact, with five nameplates achieving double-digit gains from 2010."
Continue reading below ↓
Recommended Videos
J. D. Power said factors that contribute to overall satisfaction of the 1,674 vehicle owners involved in this study are service quality, vehicle pick-up, service initiation, service advisor and service facility.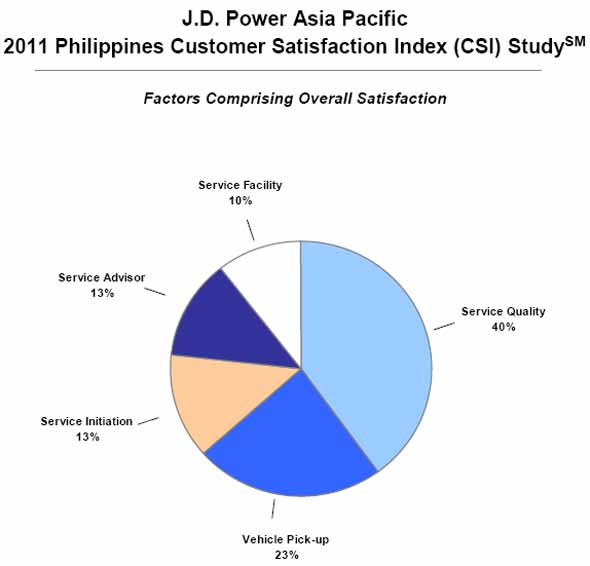 The research firm said these factors also contribute to car owners' loyalty and affect their decision on where to get post-warranty services for their vehicles.
"Nearly 59 percent of highly-satisfied customers (service satisfaction scores averaging above 856) said they 'definitely will' return to the same dealership for post-warranty service," J. D. Power said. "In contrast, fewer than one-third (29 percent) of customers with low satisfaction (scores averaging 745 and lower) say the same."
Respondents in the J. D. Power Asia Pacific's 2011 Philippines Customer Satisfaction Index Study purchased their vehicles between January 2009 and April 2010 and took their vehicle for service to an authorized dealer or service center between July 2010 and April 2011. The study was conducted between February 2011 and July 2011 and involved the evaluation of 60 vehicle models.