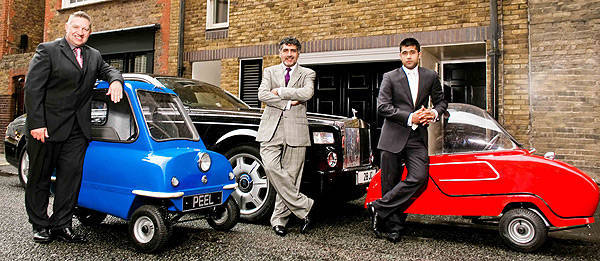 The world's smallest production car as recognized by Guinness World Records is back but only for a limited time as only 50 units of it are being produced.
Measuring just 54 inches long, 41 inches wide and 48 inches high, the Peel P50 (with its "one adult and a shopping bag" capacity) is one small car indeed. The Peel 50 and its slightly larger two-seater bubble-top sibling, the Peel Trident, were produced from 1962 to 1966 by Peel Engineering Company.
Although the company ceased to exist in 1974, the car has retained a cult following. Hoping to reinvigorate and reinvent the Peel 50, Gary Hillman, a Peel 50 owner and collector of unusual automobiles and memorabilia, teamed up with entrepreneur Faizal Kahn to re-establish Peel Engineering Company and create a modern version of the three-wheeled car that, though resembling the original car externally, is mechanically different from it.
A stint on the United Kingdom TV show Dragon's Den--where both Hillman and Kahn pitched the reinvented Peel P50 to five wealthy investors--attracted the attention of James Caan, one of the show's five 'dragons', who invested £80,000 (roughly P5.37 million) into the company in exchange for a 30-percent share of Peel Engineering Company and in addition to owning one of each model of the two Peel cars.
Continue reading below ↓
Recommended Videos
"When investing, I often look for things that are a little bit different. Rare opportunities can surprise you and add fun to the process. As a British-made product, Peel encompasses traditional values and manufacturing," said Caan. "Not only will there be plenty people who want to own a piece of history by having a Peel, but the brand is ideally placed to expand into a larger product range. You never know, soon you might even see me driving around Mayfair in my own Peel Engineering car."
The modern Peel P50 and Peel Trident can be had with either a 49cc, four-stroke engine that has an output of 3.35hp and 4.2Nm of torque, or with an electric motor that produces 3.35hp and 14.4Nm of twist. Range for the standard P50 is said to be 55.55km per liter, while the electric version can run 20-30km per pack on a single charge although Peel Engineering claims that multiple packs can be fitted per vehicle to increase its range.
Although the old-model P50 was slightly more powerful than the new model by 0.85hp, it only had a three-speed manual transmission and had no reverse gear, whereas the modern P50 now utilizes a continuously variable transmission to go with the reverse gear.
So if you're in the market for a small vehicle because of the ever-tightening streets of the metro and the continued see-sawing of fuel prices, you'd better get in touch with Peel Engineering as it claims that only five of the 50 limited-edition cars are still available. Heck, we'd even drive it all the way to our office cubicle just like Jeremy Clarkson did in an episode of Top Gear.
If you're viewing this on a mobile device and can't see the video, please click here.
[gallery]1144[gallery]