Have you ever had recurring dreams? I've had plenty. Years ago, I constantly dreamt my car was inundated. I've had the gift of flight. I usually dream I'm back in school, cramming for an exam I didn't know about until the last minute.
I've also dreamt that not only did I have a Lamborghini, but I actually walked into a dealership and ordered one right then and there. Coming from the '80s generation, I had a poster of a Countach on my bedroom wall. It was my most treasured car in my Matchbox collection. To this day, I have old car magazines that feature the Countach, its successor the Diablo and the classic Miura. Last year, my dream test drive finally happened: a day on the Shanghai racetrack with the Aventador. It was so good I still savor the sound of its monster V12 engine.
Since I had fulfilled Part 1 of my Lamborghini dream, I figured it was time to go for Part 2: walk into the Lamborghini showroom at Bonifacio High Street and spec my car just the way I wanted it. This is the part where it got a little surreal...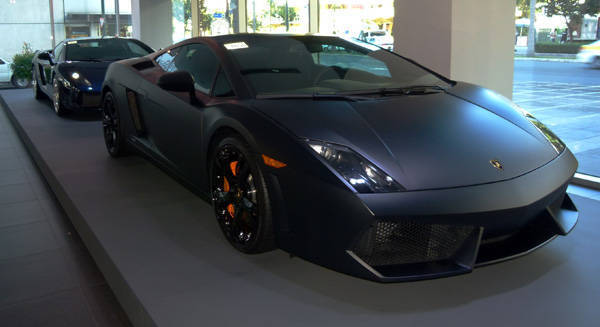 Continue reading below ↓
Recommended Videos
For starters, as I entered the showroom, it occurred to me that I hadn't looked at my kid's face just before I'd left. I could remember how I got there, but the things that had happened before that suddenly seemed hazy. Either I was having an Inception moment or I was just dog-tired from a long day.
I had to check myself in a mirror and see if I was not, in fact, stark naked (don't you hate those dreams?), but everything seemed to be all right. I did, however, seem to have the boundless shopper's confidence that only the scion of a multinational corporation could have. Or perhaps a super-suave superspy bankrolled by a mysterious shadow government (I love it when I reach that state where I know I'm dreaming and can take control).
Anyway, the person who greeted me inside wasn't Michael Caine but somebody more important: Erick Jarlego, the general sales manager for Lamborghini Manila. Last year was a good first year for his crew: They sold an average of 1.2 Gallardos a month and two Aventadors. The two Gallardos on the floor had yet to be sold, not because they were fugly (in fact, the matte gray was exquisite), but because nearly all customers ordered custom.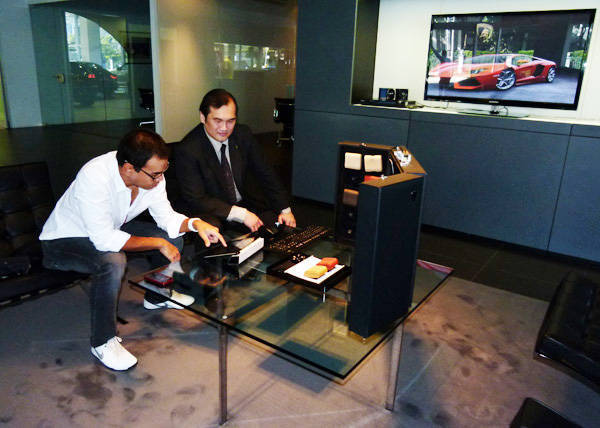 Ah, customization. Mere mortals go to the aftermarket to personalize their rides. The super-rich, on the other hand, can tailor-fit their cars right in the showroom. Indulging me in my dream shopping experience, Erick explained that personalization is a major part of the appeal of a Lamborghini as they can accommodate nearly every customer request no matter how quirky or exotic.
For example, I could theoretically order snake skin leather upholstery. Add flames to the exterior like a Hot Wheels toy car. How about diamond trim pieces? Teak wood shifter paddles? According to Erick, the Lamborghini factory in Sant'Agata is accustomed to some of the most unusual requests, even down to Hello Kitty exteriors and gold plating. The sky (and legal issues, presumably) is the limit for cost-no-object customers, but that's assuming they can wait.
It takes roughly six months from the time you put the money down on a Gallardo to the day you can pick it up at the PGA main office on EDSA--and a whole year for an Aventador. "Special requests" outside of their in-house personalization program can extend the wait a little bit more.
"Twelve months for my car?!" I exclaimed to Erick in mock annoyance.
Then Marion Cotillard walked up to me, hypnotizing me with those haunting almond eyes of hers. "You're waiting for a train. A train that will take you somewhere far..."
Then, what did sound like a freight train rumbling past made me turn, but no, it was just a customer at the other end of the showroom revving up one of the units.
They had pretty strong coffee at the Lamborghini showroom.
Since I couldn't bear to wait any longer for my Lamborghini, I decided to forgo my request for Komodo dragon leather inserts. Anyway, they had a very nice selection of stock colors and trim to choose from.
But first, I had to choose between the Gallardo and the Aventador.
"Perhaps you would like to try on the Gallardo?" Erick asked. So I got in and it took me five seconds to decide it wasn't the car for me.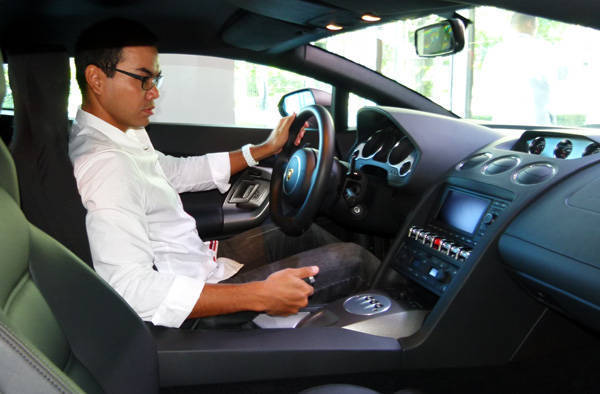 Why is that, you wonder? Not that it's the "slower" Lambo, but if I'm getting one I want those "suicide" swing-up doors of the Aventador, man. And can you believe that the steering-wheel column doesn't telescope? Too entry-level for me.
See how the ultra-rich can make decisions when cost is not an issue?
"All right, sir," Erick said. "Then let's start spec'ing your car." So he brought out an iPad and showed me an app to let me spec my Aventador. (Don't bother looking for it on the App Store because it's a proprietary program.) For the exterior, I could pick the body paint, the wheel color, the brake caliper color, and between transparent and carbon-fiber engine covers. A wide-screen TV instantly showed me how my car would look, just like in those Need For Speed video games.
Honestly, you can spend a whole day fooling around with your car on that thing. There are just so many color options to choose from. If I remember correctly, there seemed to be 50 shades of gray, blue, red, orange, yellow, all with Italian names that sounded like "Tutto Gelatto," "Ora Amici," "Fausto Coppi," and maybe "Osso Bucco Pantani." Or something like that. Or I could have specified my own color mix using their "Ad Personam" program. Then there were also the various types of interior trim.
Old-school types who like a more intimate experience can use the "Marketing Presentor" kit, which is a fine leather briefcase containing all the sample base colors, and suede and leather textures to choose from. Think of it as a Lego kit for the truly wealthy so they can mix and match to their pleasure.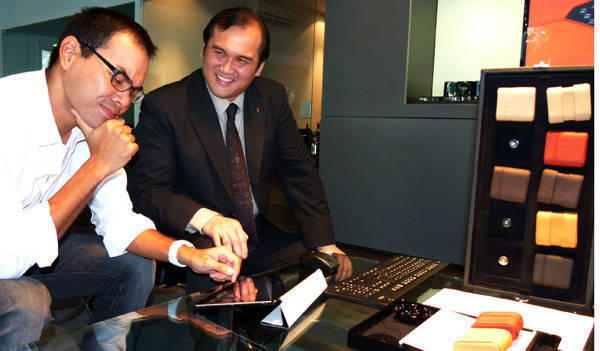 After toying with both the iPad and the Marketing Presentor, I finally had a car I could be happy with. At first, I liked the virginal purity of the white exterior, then briefly thought about the dark gray hue seen in The Dark Knight Returns. Finally, I settled on a bright orange exterior with silver rims, orange brake calipers, yellow springs, a carbon-fiber engine cover, and a transparent engine hood. Much as I hate those ugly things, I spec'd parking sensors and a rear-view camera since I would hate to be That Guy In The Lambo Who Can't Parallel-Park.
For the interior, I chose a color concept called "Bicolor Sportivo Alcantara" with "Nero Ade" as a basic color, and "Arancia Dryope" as the contrast color. Just to remind myself that, yes, I was in fact driving a Lamborghini, I also picked a special Branding Package with its strategically placed Lamborghini emblems. I also picked a multifunction steering wheel with suede leather wrap, power-adjustable seats, and a Non-Smoking Package.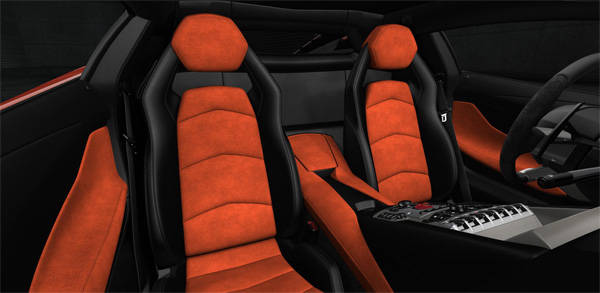 By the end of this exercise, the computer had conjured up a most tempting little number for everybody in the showroom to check out, placing the car against several backgrounds for perspective and better appreciation. At this point, Erick excused himself to print out a quotation for me while I contemplated the next 12 months of anticipation. I also checked out the various accessories like the cleaning kit, the caps and the seven-figure telemetry kit.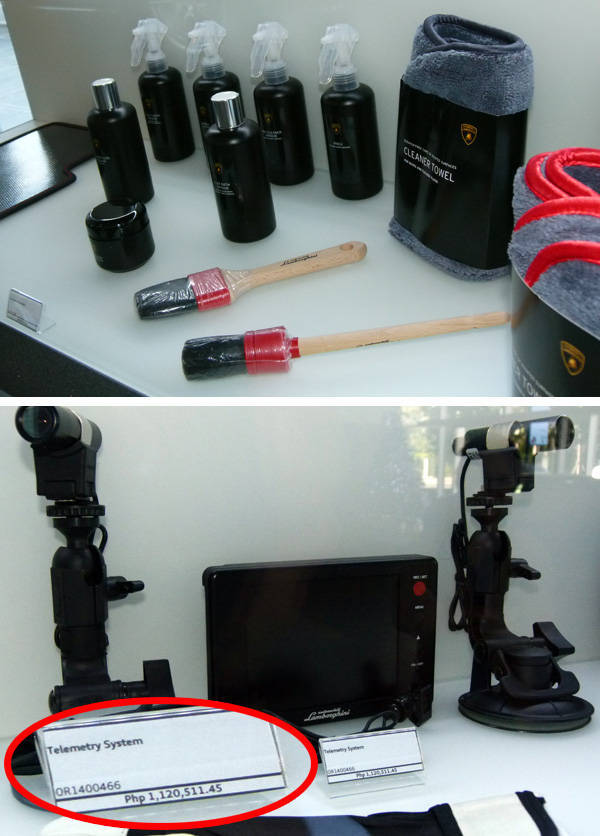 On signing the order, I would have to issue a check worth 50 percent of the car's final quoted price. And just before delivery, I would then have to pay the balance. Interestingly, I could actually trade in some cars (as long as these had been bought from the PGA Group) as part of the down payment. Like four pre-owned Porsches, perhaps. Unfortunately, I could not use the mortgage on a house.
At this point in the dream, Erick came back, produced a hard copy of the quote for me to sign, and it was time to pay up. I reached in my coat for my checkbook, stopped, and then was horrified to find out that I was stark naked.
Behind me, Marion kept babbling on and on about a train and a safe and some other weird things. The walls started crumbling--up became down and down became up, and loud opera music started blaring from all around me.
I blinked, felt myself falling backward, and woke up to find this image on my iPad: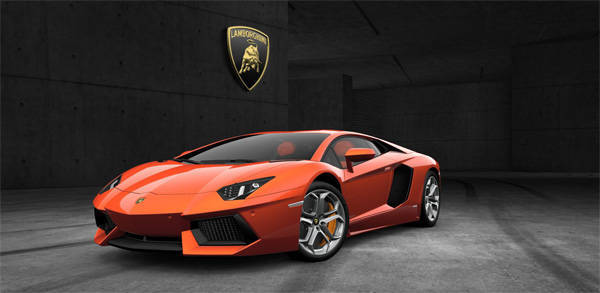 Photos by Andy Leuterio and Lamborghini Manila