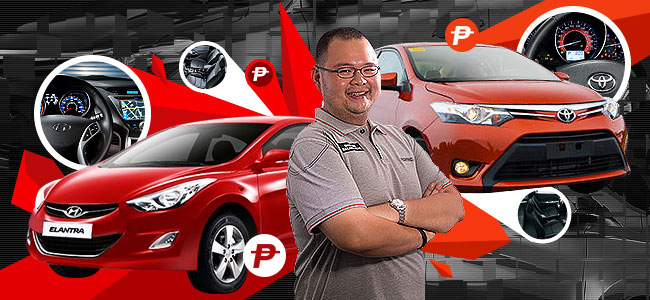 Hi, sir Botchi. My wife and I are planning to buy a new car. Our budget is limited to P900,000, and we have two choices:
* Toyota Vios G AT. We like this car because of its new design, efficiency and reliability. Since it is within our budget limit, we go for the high-end variant;
* Hyundai Elantra GL AT. We like the design, and for just below P900,000, it's already a big car with nice features.
I know these two cars are not in the same category. Is Hyundai as reliable as Toyota now?
Please help us choose the best car within our limited budget.
Thank you.
Glen Gernan
Hi, Glen. Thank you for your e-mail. Yes, the world has changed since 10 years ago. Korean cars can now stand toe to toe with Japanese makes, and it is the Japanese manufacturers--now very big and large--who are facing recalls and silent workshop campaigns (a fancy name to hide the ugly "recall" word).
ADVERTISEMENT - CONTINUE READING BELOW ↓
The Hyundai Elantra is a pretty good car. In a previous Top Gear comparo, I once described the higher Elantra GLS AT as a much better value-for-money competitor to the expensive, JDM-sourced Honda Civic. So yes, the Elantra is a very sweet ride indeed.
The Elantra soaks up the bumps well, and has good steering feel, ample brakes (if a tad over-assisted) and very good interior room. I've only ever driven the six-speed 1.6-liter manual, and found it fairly decent. Then again, I do have a heavy foot and am heavy myself, so I always end up looking for more power. But for the everyday commuter, the Elantra offers more than you'll ever need in a car.
And yes, reliability is good. I know a number of very happy owners of the Elantra, and they're all pleased with their purchase. The key is finding a dealership that can help you build your trust and confidence in the Hyundai brand--one that will entertain all your queries and will go that extra mile to satisfy all your needs and requests.
The all-new Vios is an equally good car. But due to the bigger, heavier, safer and more refined body, it's just not as fuel-efficient as its predecessor. What it does have is more style, panache and refinement/comfort, feeling less taxicab-like. Times have changed, though, and there are other car brands and models that offer so much more for comparable money, or the same for less money than the Vios. It's still a very good car, dynamically better than before. Despite the added weight, the longer wheelbase makes it much more stable at highway speeds, and the brakes are simply phenomenal on the Vios! But the goalposts have moved forward as well.
The only plus factor the Vios has in its sleeve is the resale value. Because it is a Toyota, you can be assured of a very safe, sweet and sure resale price after three to five years, and the Vios will be mint: People will snap it up if it's the right color, spec and mileage.
ADVERTISEMENT - CONTINUE READING BELOW ↓
Go for the Elantra. You'll love the added space, pace and exciting style, plus an all-new dealership experience compared to a typical Toyota dealership where it tends to be a typical job-shop: first-in/first-out, period.
I hope this helps. Good luck, and God bless to you and your wife! Happy (and safe) motoring!
Botchi Santos
Consumer Editor
Do you want Botchi to help you pick the right car? Send your question to topgear@summitmedia.com.ph.
Artwork by Lloyd de Guzman
[poll]498[poll]