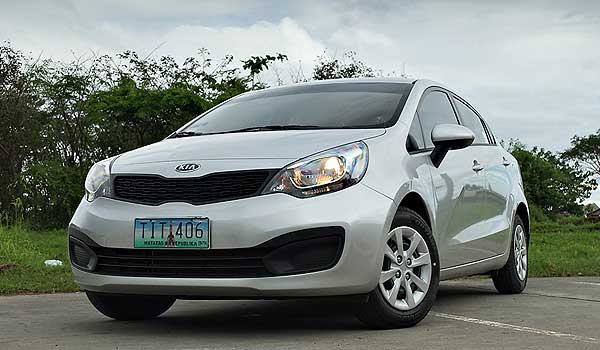 In the realm of fleet cars, or those models destined to be sold in bulk to corporate accounts, there is one prime consideration that eventually determines whether a sale will push through or not, and that is the car's price. While the showroom may publish a "suggested retail price" for its so-called "base model," discounts and concessions will eventually find their way into the negotiations as both the buyer and the seller haggle for the best deal. Manufacturers will, more often than not, offer dumbed-down bare models of its cars to conform to the buyers' minimum requirements, occasionally throwing in a lot-specific concession like a client-requested color, for example, if only to get its stocks moving.
When Columbian Autocar Corporation launched the 2012 Kia Rio in January, it did so with the fleet accounts in mind. As its latest sub-compact entry, it fit the taxi/sales-agent/company-car target market to the tee. All CAC had to do was get the pricing down to a more palatable level. Hence, we now have the 2012 Kia Rio LX.
The gasoline-powered, manual-transmission model of Kia's newest car is basically a stripped-down version of the more upscale Rio EX. Airbags are some of the most expensive individual components inside a car, so they were the first to go. Large alloy wheels are also quite pricey compared to hubcapped 14-inch steel rims, so CAC opted for the latter. Chrome pipings and accents had to be ditched as well to save on costs. Even the headlight assemblies, sadly, had to lose their LED design cues. The 60:40 split-folding rear seats? Not in this variant. Power windows? Only at the front doors, and don't even bother about power door locks as the Rio LX doesn't come with these. The antilock brake system? Forget about it. Fleet buyers will also lose about 200cc worth of displacement together with close to 20 horses of power and almost 18Nm of torque with the LX as it only houses a 1.2-liter Kappa engine instead of the 1.4-liter lump in the higher-end EX.
Continue reading below ↓
Recommended Videos
So, what do fleet buyers have left? Well, for P598,000 they will get a smooth-riding, solid-feeling, cleanly-designed, stylish and modern-looking Euro-inspired sedan. It is a well-built everyday car that's spacious enough to accommodate five in relative comfort. It rides with a composure befitting a larger compact. It has seats so soft and supportive that passengers will feel like they were sitting in body-hugging office chairs. The large and deep trunk space should be able to house an LPG tank along with cargo. Also standard with the LX is a two-tone dashboard finish that, thankfully, CAC didn't omit. At least when fleet drivers step inside, they will not feel like they got the raw end of the stick.
On the road, the fleet driver will experience composed lightness in the Rio LX's controls. The clutch, brake and gas pedals are all soft to step on, but this time they are more controlled and precise to operate. No more clutch lag as with the old Rio. The electric-motor-driven power steering is likewise a breeze to fling around, making this Rio effortless to drive. And granted you don't intend to accelerate past 4,000 revs, the small displacement Kappa engine--the same found on the recently released Picanto 1.2-liter hatchback--should be enough for the daily grind.
There is a huge market for fleet cars in the Philippines, and it would be foolish not to cater to this segment's whims. Now we can cry all we want and still not get those cast off features back even if we feel we deserve it. And again, that's all because of price. Though offering the most basic of trims in the model lineup, the fleet car does give the brand a reason to push for its sales--volume. And it is volume that makes the brand principals happy.
[gallery]1188[gallery]