The Suzuki Swift Dzire is gone now, and along with it, its visually discombobulating proportions. Instead, we have with us the all-new Dzire (yes, just Dzire), with much better looks, a better platform, and an 'automated manual transmission.'
These are considerable changes for the Japanese carmaker's subcompact sedan, and supposedly ones that make it better, comfier, and more efficient to drive than the old model. But lofty claims always lead to bigger question marks—and most of the ones we have are regarding its powertrains and unconventional transmission.
How will the car cope with less power, and what exactly is the deal with the Automatic Gear Shift (AGS) setup? Let's find out.
Styling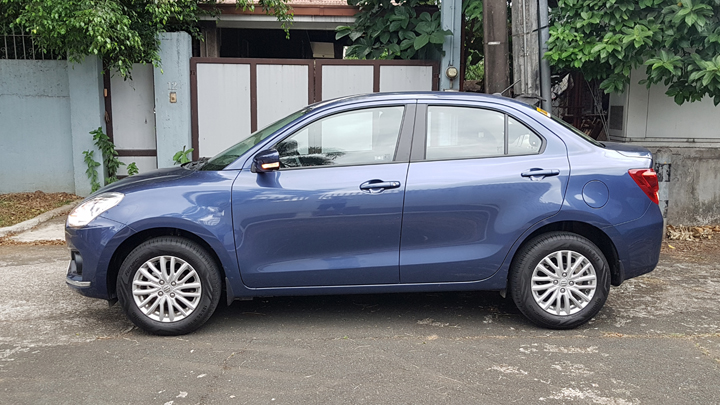 Continue reading below ↓
Recommended Videos
We can't stress this enough: The all-new Dzire looks worlds better than its predecessor.
The main reason for this is, well, the sedan no longer looks like a Swift with an identity crisis. The rear end and the roofline are better tapered now, and appear more in line with the front end's proportions as well.
Its modern headlight design looks as though it was carried over directly from its hatchback sibling, but the grille—with chrome accents surrounding the lower fascia and the foglight housings—is entirely its own.
The Dzire also runs on 15-inch alloys that convey a higher presence than what its actual dimensions will suggest. It's not as tall as its predecessor (1,515mm vs 1,555mm), but you can hardly tell. Length, at 3,995mm, remains the same, though the wheelbase has increased by 20mm.
Overall, it's a classy albeit simple look with its rounded-out fenders and clean lines. We dig it.
Interior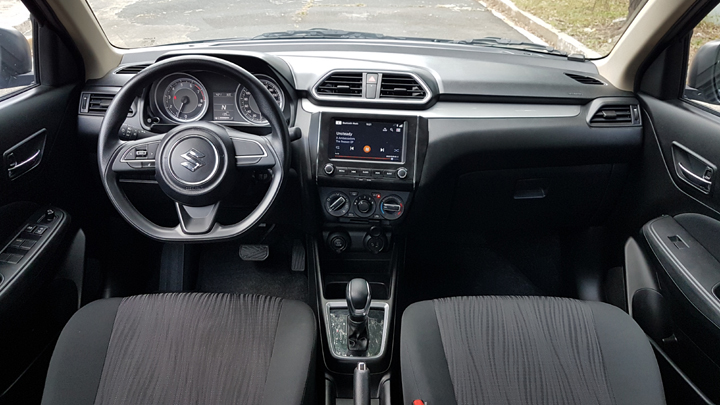 With plenty of hard plastic surfaces, the Dzire's cabin definitely isn't one of the best out there. But for the asking price, and considering the decent amount of space and features the interior provides, there really isn't anything to complain about.
The overall vibe is dark and minimalist, but everything comes together pretty nicely. The three-spoke steering wheel feels relatively good for something that's made entirely of plastic, and the gray/silver accents scattered across parts of the cabin don't look that cheap. One downside is that the rear passengers might feel a little cramped in the back with taller occupants in the front area.
Headroom is decent, and there's a good amount of useful storage compartments. The doors' bottle holders can even fit a one-liter water bottle. Suzuki has made good use of what little space the Dzire's frame could provide it.
Engine performance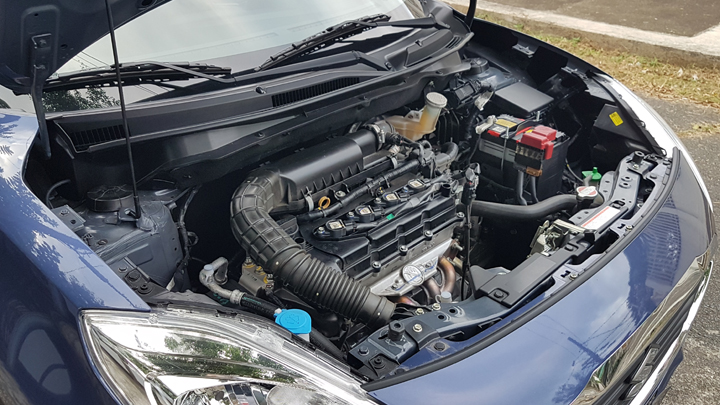 This is where things get tricky. The GL+ Dzire's 1.2-liter engine (82hp and 113Nm of torque) comes mated to a five-speed Automatic Gear Shift (AGS) transmission. This is not a conventional automatic, and it's immediately apparent once you look at the shift lever: There's no Park—only Drive, Neutral, and Reverse.
Basically, this is supposed to be an 'intelligent' manual transmission. You shift up by slightly depressing the accelerator as the revs pile up, and this does take considerable getting used to. Of course, you can leave the transmission to do its own thing if you're too lazy to learn, but the result is a pretty jerky ride—especially when shifting around in the lower gears.
Performance smoothens up once you get the hang of the AGS. The Dzire at times will sound underpowered climbing up steep inclines and the like, but at least it won't feel like it when you're behind the wheel. The vehicle is also surprisingly efficient: We averaged 12km/L in Metro Manila traffic. Not bad at all!
Ride and handling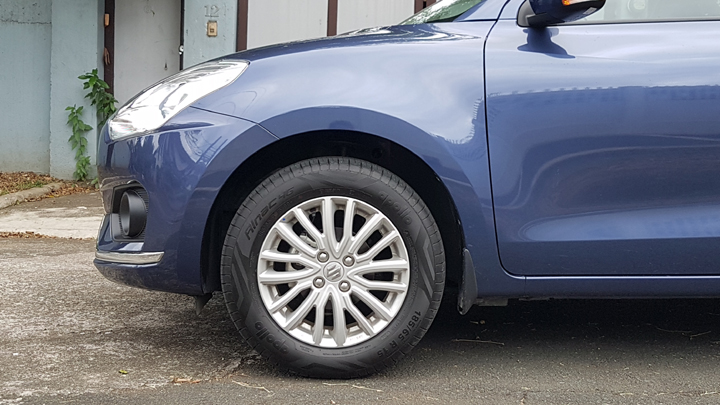 For a car as small and affordable as this, the suspension is surprisingly well-equipped to take on the daily grind of city driving. The MacPherson/torsion-beam setup does a well enough job of negating typical bumps and imperfections.
It handles very well, too, with light and responsive steering dynamics. One passenger, simply by checking out the car and observing me operate it, commented that the Dzire appears to be the perfect ride for a newbie driver.
Combine all these with the Dzire's small size, good visibility, and efficient performance, and you have the makings of a very convenient daily vehicle.
Extra features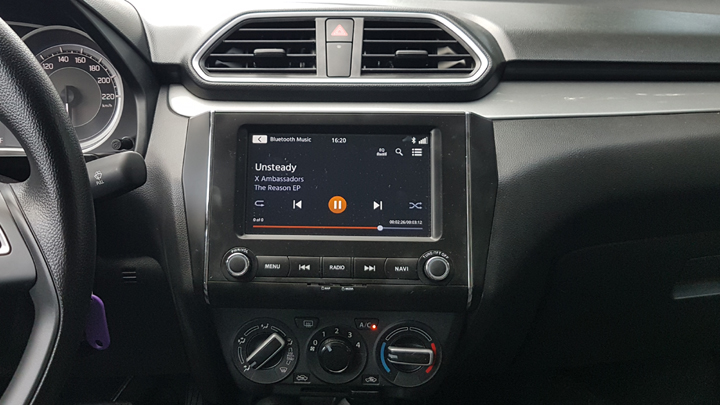 Entertainment duties are handled by a 7-inch touchscreen with Bluetooth connectivity. Sound quality is surprisingly okay for a car at this price level, but connecting a phone to the system can sometimes be a hassle. There were several instances when the setup would simply not cooperate with our Android smartphone's music apps, showing a connection but refusing to play any sound.
Other than that hiccup, we were very pleased with the Dzire's overall feature package. There's a pair of conveniently placed 12V ports in the cabin, and there's even an A/C vent for rear passengers. The manual A/C system has an easy time keeping things cool inside, too.
There's also a surprisingly decent amount of room in the trunk. We were able to fit one full-size piece of luggage and a few gym bags in there.
Verdict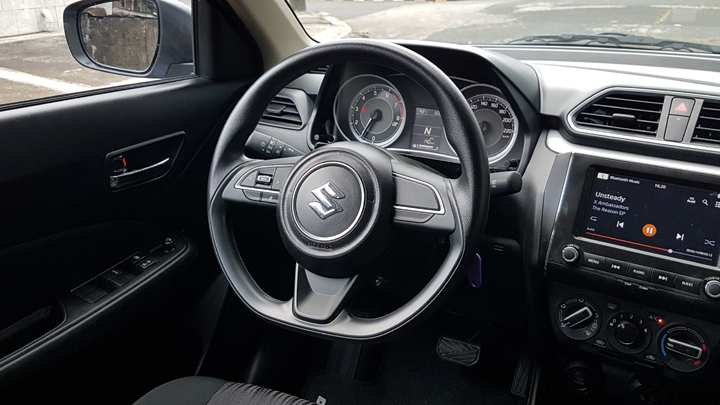 For less than P700,000, the all-new Suzuki Dzire is a car that carries a good amount of features in a very city-friendly package.
Space is maximized inside, and the ride is surprisingly good. It comes with a Bluetooth-capable touchscreen infotainment system that can be iffy at times, but it makes up for this with decent sound quality. Overall, this is a well-rounded daily driver for budget-conscious buyers.
The big question mark is how Suzuki Philippines will handle the ASG. Those looking for the convenience that a conventional automatic transmission provides may be disappointed by this unit's transmission. You can get used to it but, like we said, it might take some time.
The company will have to disseminate information and train potential owners on how to use the ASG beforehand for this new setup to be successfully adopted by consumers.
SPECS: Suzuki Dzire GL+
Price: P698,000
Engine: 1.2-liter gasoline I4
Power: 82hp @ 6,000rpm
Torque: 113Nm @ 4,200rpm
Transmission: 5-speed 'Auto Gear Shift'
Drive layout: FWD
Seating: 5
Score: 15/20
Suzuki Dzire GL+