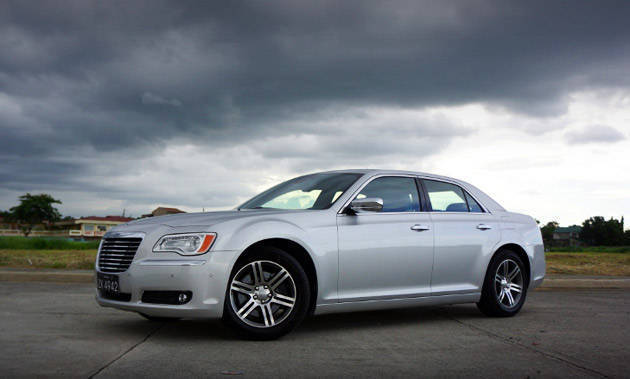 Five years ago, you wouldn't have bet on Chrysler surviving through the "Car-pocalypse." But here it is, with several new models and a renewed vigor thanks to its new parent, Fiat. The new Chrysler 300C is one of the models leading that charge. Based on a German chassis and built with an Italian flair, the Chrysler is still all-American. That means big space, big power and big attitude. But does that make it a big bargain? At almost P3 million, you'd think not, but nobody else gives you this much car for this little money.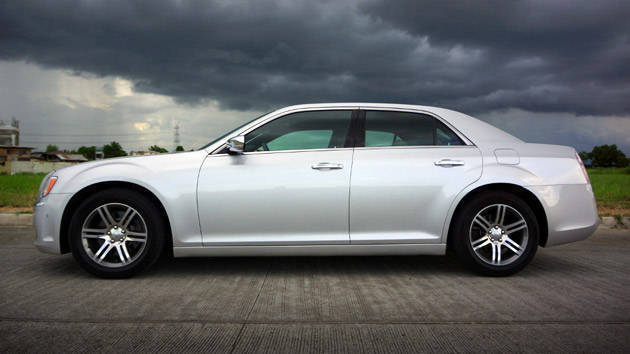 STYLING
The original 300C was a study in architectural design, rendered in high-class Art Deco. The new car retains the radiused curves and solid lines of the old car, bookended by more modern front and rear ends. The new LED-equipped HID headlamps are striking, and the curvier front end helps drop the drag coefficient from 0.36 to a more acceptable 0.32. The stylish rear end, with its subtle tail-fins, is worlds better than the blocky rear on the older car. The 18-inch wheels pushed out to the corners of the car give the 300C a sporty stance, despite its size.
ADVERTISEMENT - CONTINUE READING BELOW ↓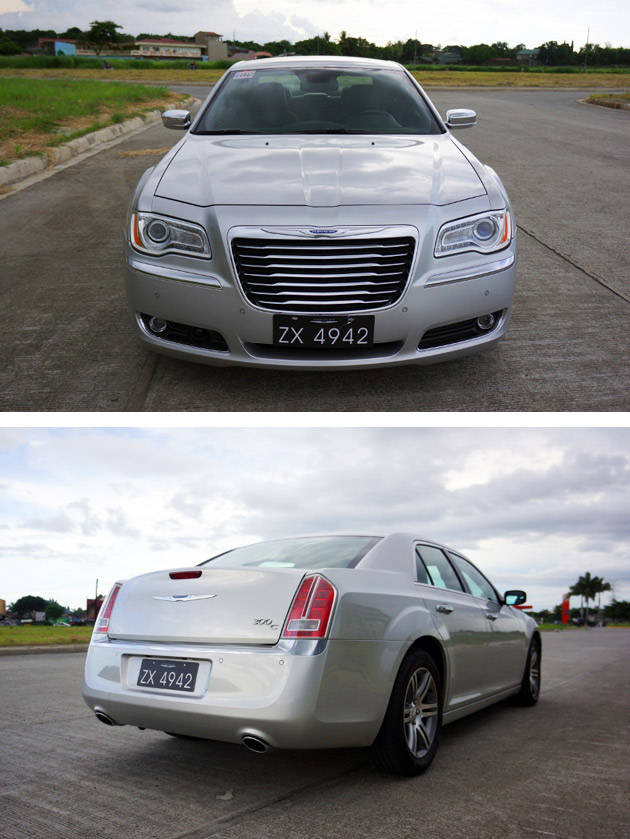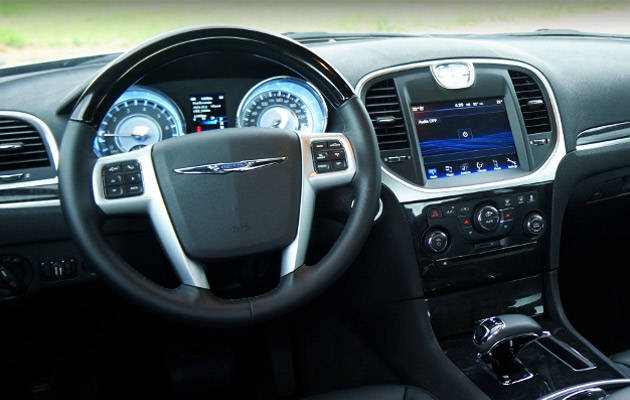 INTERIOR
Where the previous car's interior failed to capitalize on the styling, the new one is more dynamic and curvaceous. The classy instrument gauges and analog dash clock further reinforce the Art Deco theme. Material quality takes a quantum leap, with soft-touch material, leather and real wood trim. While fit and finish aren't quite up to European standards, the 300C offers 7-Series space and comfort at less than 3-Series money.
ADVERTISEMENT - CONTINUE READING BELOW ↓
Recommended Videos
Thanks to a long wheelbase, legroom is expansive, though the chopped roof and raked windshield somewhat impede headroom. With a power-adjustable pedal box, steering column and four-way lumbar support, driver ergonomics is excellent.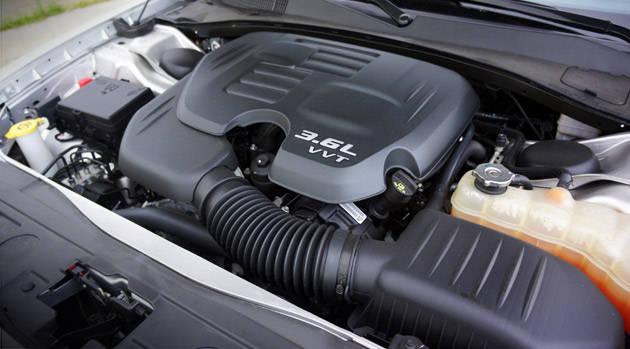 ENGINE PERFORMANCE
The 292hp all-aluminum variable-valve DOHC V6 is a gem. Lighter than its predecessor by 43kg, it is smooth, revvy and refined. And once the cam profiles change at 4,000rpm, it really boogies. The eight-speed automatic shifts seamlessly, although there's a slight delay in kick-down while cruising. With 100kph coming up in under eight seconds, SiRs won't embarrass you at stoplights. Economy? With the engine barely ticking over at 1,500rpm at 100kph, we saw 8-12km/L in mixed driving, but don't expect to get any better than 4-5km/L in traffic. This is a heavy car.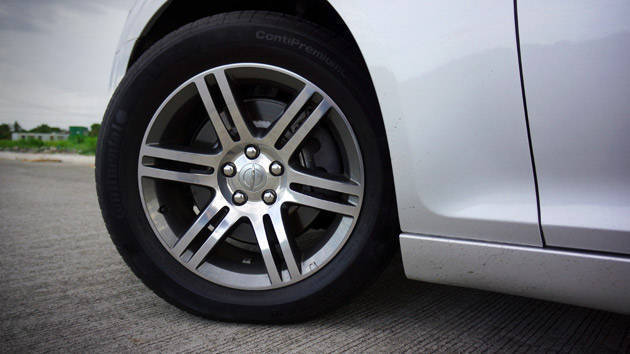 ADVERTISEMENT - CONTINUE READING BELOW ↓
RIDE AND HANDLING
The Chrysler 300C's hefty curb weight and supple suspension help steamroller any road into submission, though the big tires tend to thump around a bit. Whatever the condition of the road, the cabin is never less than hushed, and only the faint roar of the engine at full throttle seems to penetrate the vault-like interior. Despite this, a 52:48 weight distribution gives the 300C a sporting character that belies its size. True, there's not much feedback through the large steering wheel, but once you acclimatize to it, the 300C is agile and maneuverable, with a tight turning radius and athletic responses.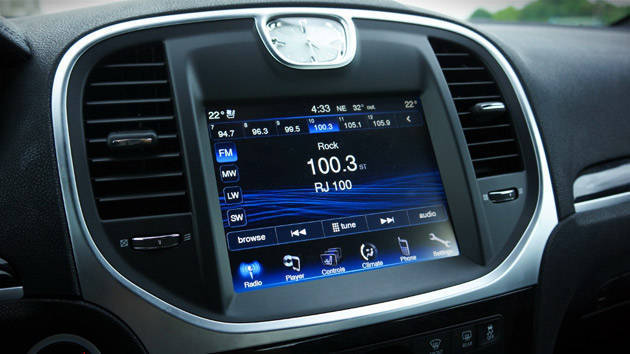 EXTRA FEATURES
The 300C comes with an excellent Alpine sound system, a responsive UConnect touch-screen system and a comprehensive climate control system with cooled and heated seats, side mirrors and even cupholders. There's a blind-spot warning system as well as a rain brake support system that automatically squeegees the brake pads dry when it rains. There are also proximity sensors front and back, but they go off all the time as motorcycles squeeze by you in traffic. The neatest party trick is the radar-equipped adaptive cruise control, which allows three levels of following distance. While it's not quite as smooth as a human driver, it's responsive enough for everyday use.
THE VERDICT
While the 300C may not match the Europeans in terms of intangibles, its combination of style and space is unmatched at this price point. Only the Lexus ES350 comes close, but that's still smaller, and still more expensive. While the bargain equation hasn't made the 300C as popular as the default S-Class option with the local taipans, it represents an intriguing alternative for well-off businessmen looking to stand out in a crowd. The new 300C may be the product of a new Italian sensibility at Chrysler, but it's as American as Frank Sinatra, and looks just as good in a suit.
SPECS: CHRYSLER 300C V6
Engine: 3.6-liter variable-valve DOHC V6 gasoline
Transmission: 8-speed automatic
Power: 292hp @ 6,200rpm
Torque: 350Nm @ 4,800rpm
Drive layout: RWD
Seating: 5
Price: P2,950,000
Score: 18/20
Photos by Niky Tamayo