Fate has a wicked sense of humor. Every time I drive the Hyundai Genesis Coupe on the Skyway, it's raining. And it's not the pitter-patter of a little cat's feet, but an honest-to-goodness torrential downpour. I don't know about you, but listening to the traction control stutter over every yump and puddle is no fun. I'd turn the nannies off, but the rear tires are nearly bald from drifting competitions, and I'd rather not end my life as a yellow smear on the pavement 40ft below.
STYLING
At least, my demise would be a fashionable one. This car is a looker. Hyundai wisely kept bits of the old design that worked and chucked out stuff that didn't. Thus, the lovely notched rear windows and slashing side strakes remain, but the anonymous front end gets a much-needed face-lift.
Continue reading below ↓
Recommended Videos
That once-ironic smirk is now a full-on rock-star leer, framed by multifaceted projector headlamps. The fake hood vents and cheeky fog lights are a bit excessive, but the design is undeniably striking. There are shades of Ferrari and GT-R there, but it's still uniquely Hyundai. Bravo.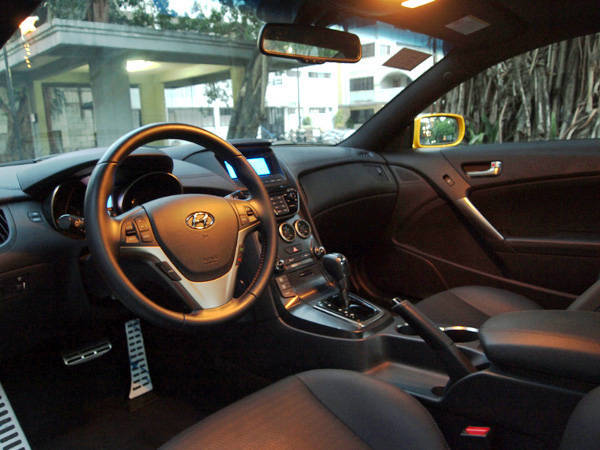 INTERIOR
Hyundai didn't dither around with the cabin, either. The sunroof, large rear windscreen and side windows make the Genesis Coupe one of the least claustrophobic coupes on the market. Ergonomics are top-notch and there's stitched leather everywhere. Deeply bolstered buckets offer oodles of legroom and elbow room, more than on many competitors. Full-size adults will fit in the back, but headroom is tight.
There are still some hard plastics here and there. The dash topper is actually cleverly molded vinyl and not hand-stitched leather, as it first appears. And the metallic rings around the center gauges are completely unconvincing. Despite this, cabin quality shames sports cars costing much more.
ENGINE PERFORMANCE
Although the big news is the upgraded 2.0-liter turbo engine, smart money will be on the V6. The 3800 RS has character, snarling at every twitch of the pedal. It's civil at low rpm, but once the needle swings past 4,700rpm, it bolts for the nearest tree. It's a little harsh near redline, but I like my guitar solos with some grunge.
The all-new Hyundai eight-speed automatic is a smooth operator. While the paddle shifters aren't very satisfying, the transmission shifts quite smartly when left alone. As it does under 2,000rpm at 100kph, it promises exceptional highway economy, but you'll be having too much fun to care.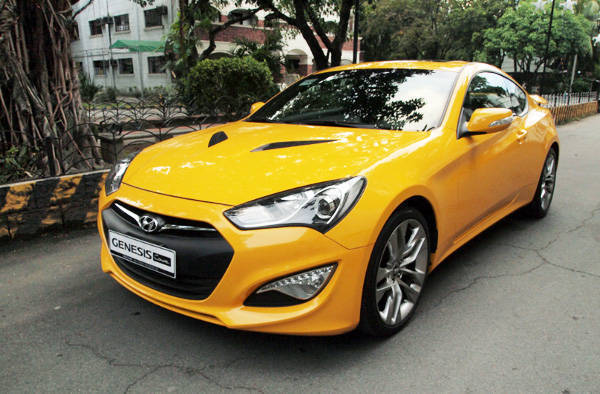 RIDE AND HANDLING
You'll be having fun because driving the Genesis Coupe quickly no longer feels like taking your life into your hands. The steering is heavy but communicative, and a stiffer suspension makes for less rear-end shimmy and more front-end bite. Well-tuned dampers help take the harsh edge off potholes and bumps. Despite this, the traction control still goes nuts over corrugated surfaces, putting a "damper" on the fun.
Yet the pros outweigh the cons: The big Hyundai is now a much sharper tool than before, and attacks corners with an alacrity it formerly lacked. Just not in the rain, please.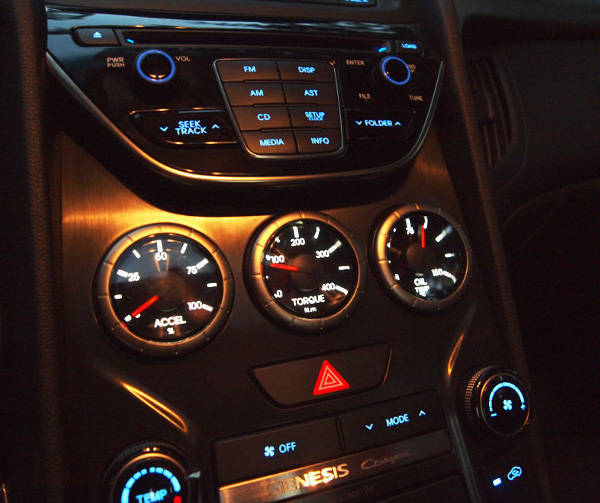 EXTRA FEATURES
Perhaps I'm spoiled, but I wish the Genesis Coupe had a touch-screen instead of a monochrome data display. Still, it has lots of toys, with blind-spot and parking sensors, a thumping stereo system, and center stack gauges that display (amusingly) torque, acceleration and oil temperature. The oil gauge is somewhat useful, but watching the acceleration meter while actually accelerating is suicidal.
The best way to enjoy this car is with the stereo off, the sunroof open and your eyes on the road. It's even better to enjoy that wonderful motor. Goosing it through an EDSA underpass almost makes Manila traffic enjoyable. Almost.
VERDICT
There's the rub. The V6 is too much sports car for the daily grind. It's civil enough for commuting, and it's more fuel-efficient than you'd expect (4-6km/L in traffic and 10-14km/L on the highway), but it's more than a little impractical. It's too low and wide for many parking ramps, and the boot won't hold much in the way of groceries. If you're looking for a track-day tool, there are better choices in that regard, too.
But for those sunny weekend blasts to Tagaytay or Baguio, nothing gives you this much drama for this little money. And it's handsome enough to get you a parking spot at the hotel door when you get there.


SPECS: HYUNDAI GENESIS COUPE 3.8 V6 8AT
Engine: 3.8-liter DOHC dual CVVT gasoline V6
Transmission: 8-speed automatic with paddle shifters
Power: 306hp @ 6,300rpm
Torque: 361Nm @ 4,700rpm
Drive layout: RWD
Seating: 4
Price: P1,988,000
Score: 17/20
Photos by Niky Tamayo