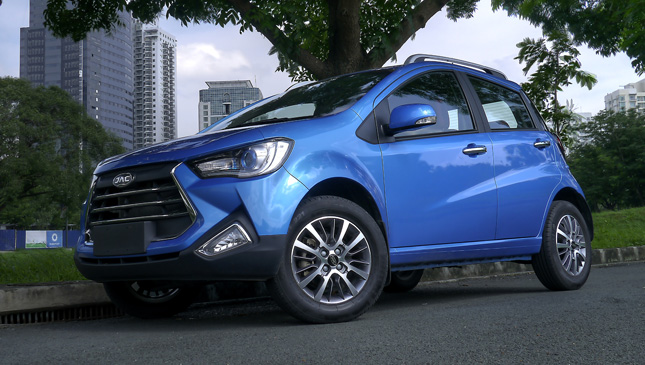 The JAC S1—or Refine S2 Mini, if you prefer—is the smallest crossover in the world. Aside from the odd kei car or two, that is. Which made me worry about this lend-out, because the missus isn't overly fond of the back seat of our hatchback, which is a marginally larger car.
The S1 succeeds the J2 (YueYue) Cross, conceived in 2012 to compete with the Geely Panda Cross. As the Cross was basically a J2 with added roof rails, buyers were, understandably, unconvinced. So JAC turned to its design center in Turin, Italy, which came up with this: A Tonka toy with bigger tires, better ground clearance, and a big old hatch-mounted spare. A package that screams "SUV!"
Continue reading below ↓
Recommended Videos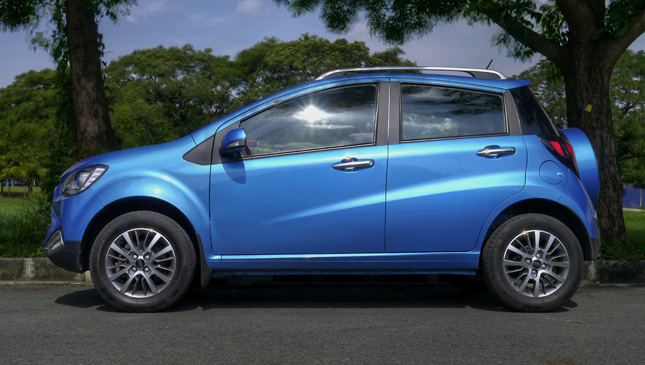 STYLING
Okay, maybe less of a scream than a mildly barbaric 'yawp'. A hatch-mounted spare, semi-floating roof, and bulging fenders give it lots of EcoSport-ish character, but the pert rear and bubbly greenhouse are reminiscent of the old Spark or Brio. An attractive chrome-ringed hourglass grille comes framed by sharp foglight surrounds and blue-haloed projector headlights. The latter feature LED DRLs and "JAC" subtly stenciled into the chrome surrounds.
Fit and finish is incredibly tight compared to other cheap cars. Perhaps a bit too tight, in the case of the front bumper-fender interface. Cross-shaped 15" alloy wheels shod in cartoonishly large 185/65R15 tires complete the faux off-roader crossover look.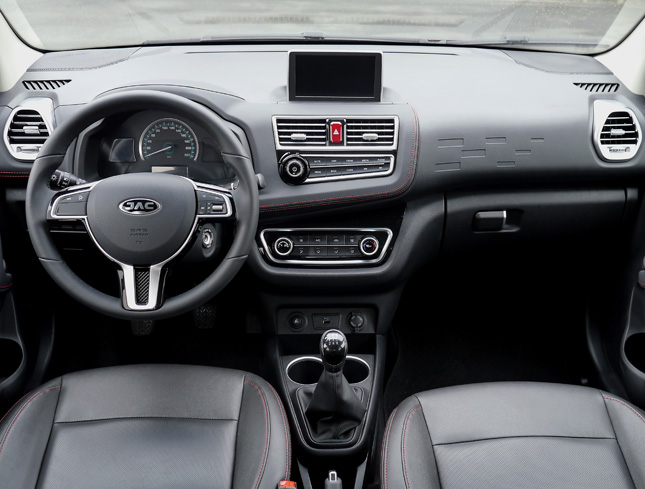 INTERIOR
The interior is impressive for the price. Seats, armrests, door grabs, and dash are trimmed in thick contrast-stitched leatherette. The embossed dashboard is made of pliable high-density synthetics, and the A/C vents boast a lovely brushed steel finish. The speaker covers, seatbelt stays and lower doors still suffer from cheap plastics, but high-contact surfaces are all covered in The Good Stuff.
Sun visors, grab handles and bin lids are heavy and well-damped. As are the doors, which close with a nice solid thud. The small hatch, however, is a bit too heavy, requiring two hands to open. An issue if you're carrying an armful of groceries. With just 190 liters of trunk space, the S1 can't carry as many groceries as, say, a Celerio, but you can actually put heavy items on top of the S1's durable tonneau cover. And a big underfloor multi-bin styrofoam box makes a great place to hide cold beer, frozen fish, and a change of shoes. All at the same time.
The rear bench is comfortably padded, but the 2,390mm wheelbase—both Mirage and Wigo boast 2,450mm—makes it noticeably tight. Six footers can sit behind themselves, but not comfortably. Up front, supportive buckets slide far back, giving room for even the tallest of passengers. Unfortunately, the steering wheel obscures the top of the speedometer. With no height control on the driver's seat, you'll have to slouch a bit to read it. Instrumentation is limited to an analog speedometer flanked by monochrome digital displays and a digital tachometer. We're not sold on the tach's laggy display, though. A digital speedo/analog tach combo would have been better.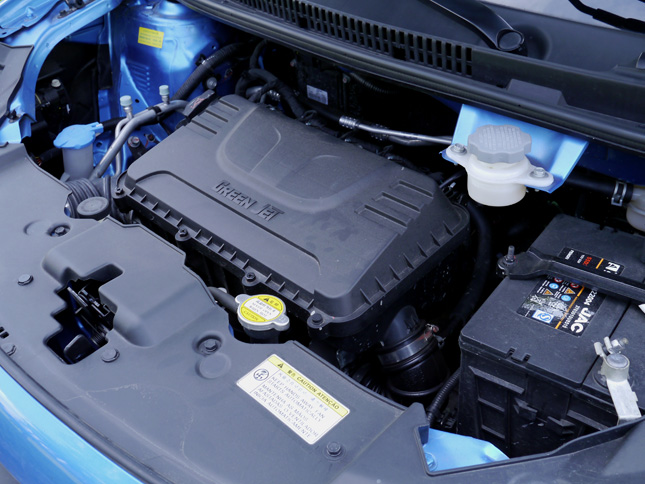 ENGINE PERFORMANCE
Under the S1's tiny hood sits a large-ish 1.3 liter 'Greenjet' engine. With variable valve timing and a 'silent' timing chain, it is noticeably smoother and quieter than three cylinder competitors, save for when the radiator fan kicks into overdrive in traffic. It feels a bit weedy at under 2,000 rpm, though. And it's only after the cam changeover around 5,000 rpm that you start feeling the promised 99hp.
Fortunately, the cable-actuated five-speed manual transmission features quick throws, a light clutch, and short gearing. And you don't get that noticeable dip in power when the A/C compressor cycles on. You do, however, get a noticeable dip in economy. Fuel economy in traffic wavered between 8-12 km/L, depending on how bad the traffic and heat were. Some highway runs returned in excess of 20km/L, but these were rare. With a full load and the A/C going in the heat, 18-19 km/L was more the norm.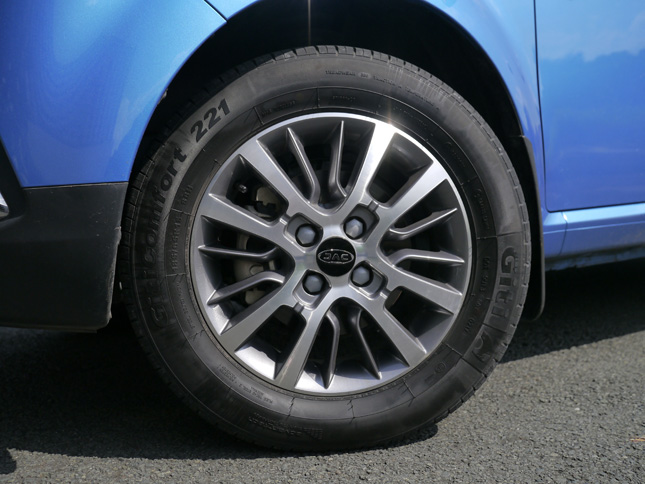 RIDE AND HANDLING
The S1's suspension is a pleasant surprise compared to older Chinese—and even current Japanese—mini cars. Steady shock damping and big tires tackle the dreaded SLEX truck lane without the crash-rattle-bang of other small cars. Despite some wind noise and the snarling engine, the S1 feels comfortable at high speeds. Middle-of-the-road GitiComfort tires are relatively quiet and wash out into benign understeer at the limit.
Brakes are capable, but rear drums result in mushy pedal feel. Steering is light, with a strong self-centering action, and a front anti-roll bar keeps handling buttoned down, though it does restrict wheel articulation over single-wheel bumps. Still, the 185mm ride height, short overhangs and long stroke suspension allow it to tackle steep parking ramps and deeply rutted farm roads with ease. Without better tires and all-wheel drive, however, more adventurous mud-plugging is a no-no. In more mundane use, despite the tiny rear window, the ultra-short nose and rear camera make it ridiculously easy to park. A good learner's car for novices. My wife certainly seems interested in it!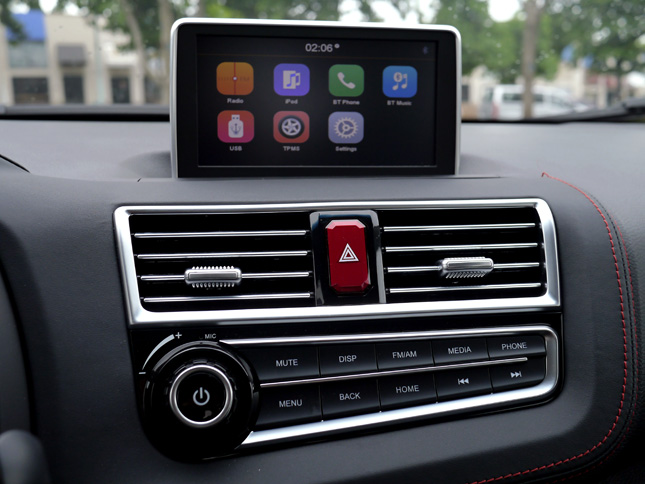 EXTRA FEATURES
The S1 features keyless entry, central locking, power windows, front and rear foglights, and height-adjustable headlights. It also boasts such niceties as tire pressure and temperature monitoring, and a rear parking camera integrated into the dash-top touchscreen.
The Baidu CarLife smartphone app isn't available here yet, leaving you with rather perfunctory Bluetooth tethering. Steering audio and phone controls are a treat, and the four speaker set-up delivers acceptably crisp and strong sound compared to other small cars. As for safety, the S1 comes complete with ABS, EBD, dual airbags, ISOFIX tethers, and three-point belts for all passengers, including the middle half-passenger in the back seat. Other nice touches include DRLs and hazard lights that shut off when you activate your turn signals. And a surprisingly strong horn. A necessity when driving beside much bigger trucks!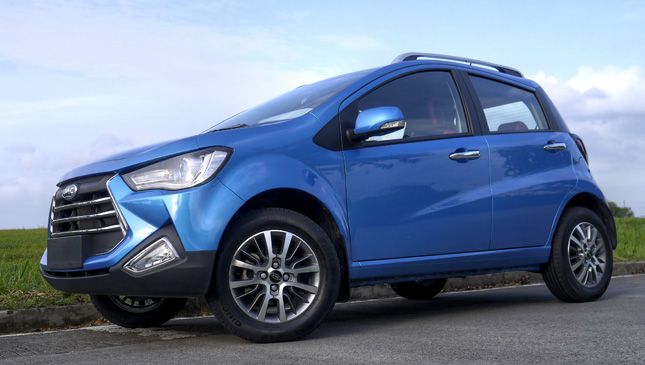 VERDICT
In the end, there's no disguising the fact that this is a mini car in drag. But one better suited to poor local road conditions than non-crossover rivals, albeit at the expense of lower fuel economy. We do worry about the cheap plastic on some minor fittings, but then again, Thai- and Indonesian-built 'Japanese' competitors feature much more cheap and scratchy plastics than this 'Chinese' car. While we can't speak to the durability of the drivetrain, the 1.3-liter mill has been in use in several JAC models over the past few years, and overseas feedback seems somewhat positive so far. What will be pivotal locally is whether distributor support can keep Philippine customers happy.
The lack of an automatic transmission option limits that customer base to the young and adventurous. And the small cabin limits that further to those without kids. But I managed to fit myself, my wife, three kids, two child seats, and assorted paraphernalia—stroller included—inside with a little creativity. This may be the first mini- car my long-suffering wife has ever complimented, due to the surprisingly easy ingress through the small rear doors, as well as the comfort of the rear bench compared to other small cars.
In fact, the only complaint she has is that I never got around to giving her those driving lessons. Uh, maybe next time, dear.
SPECS: JAC S1
Price: P585,000
Engine: 1.3-liter Gasoline
Transmission: 5-speed manual
Power: 99hp @ 6,000rpm
Torque: 126Nm @ 3,500-4,000rpm
Drive layout: FWD
Seating: 5
Score: 16/20