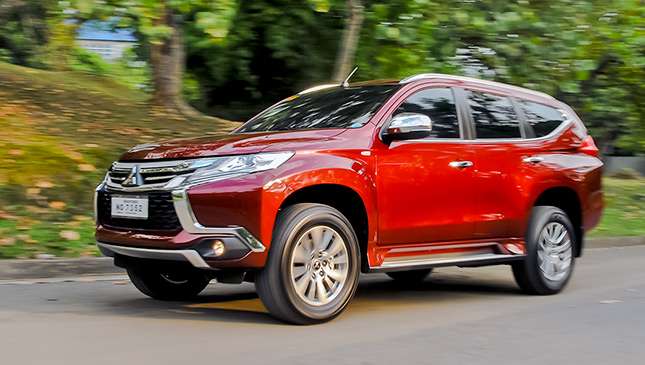 The current Montero Sport has been on the market for about a year and a half now, and has gotten its fair share of attention—whether you're one who loves the car, hates the taillights, or is skeptical about this 'sudden unintended acceleration' nonsense surrounding the nameplate.
The initial offerings were a pair of 4x2 automatics, a 4x4 manual, and the top-spec 4x4 automatic. This GLX variant finally fills the 4x2 manual void. With a price tag of P1.415 million, the new base model will surely bring in more sales.
I'm one who's absolutely drawn to the styling. Just look at it—how can you not be? The Dynamic Shield Design does make this midsize SUV seem like a concept from the distant future. And the taillights? Yes, I do like them. As I've said before, they give the Monty a recognizable identity.
Continue reading below ↓
Recommended Videos
The interior follows the same sophisticated approach. Design is one thing, comfort is another. The cabin is driver-centric, with a car-like driving position and supportive seats boasting just the right amount of firmness. The second row has been moved slightly forward and the third row has been pushed back for more legroom. The headliner is also contoured for taller passengers. It really is well thought out.
This may be the cheapest variant, but it doesn't feel like you're being shortchanged because there's one engine across the range—the new 4N15 2.4-liter turbodiesel that delivers 178hp and 430Nm. The clutch is deep (a Mitsubishi trait) and firm, with throws that are close toward each gear. Combine that with hydraulic steering and the tightest turning radius in this class, and you have a sport-ute that emphasizes driving enjoyment. 
Grunt is linear until the 4,000rpm redline, making it a breeze to overtake tricycles and other slow vehicles during out-of-town drives. Our test drive yields about 9km/L around the city and 12.7km/L on the highway with four passengers on-board and the cargo area filled with belongings and produce from the market.
Given the congestion, the most practical proposition these days would be an automatic vehicle. But if you'd rather swap cogs manually without the need for four-wheel drive, then the Montero Sport GLX satisfies the requirement nicely.
SPECS: Mitsubishi Montero Sport GLX 4x2
Price: P1,415,000
Engine: 2.4-liter turbodiesel I4
Power: 178hp @ 3,500rpm
Torque: 430Nm @ 2,500rpm
Transmission: 6-speed manual
Layout: RWD
Seating: 7
Score: 19/20