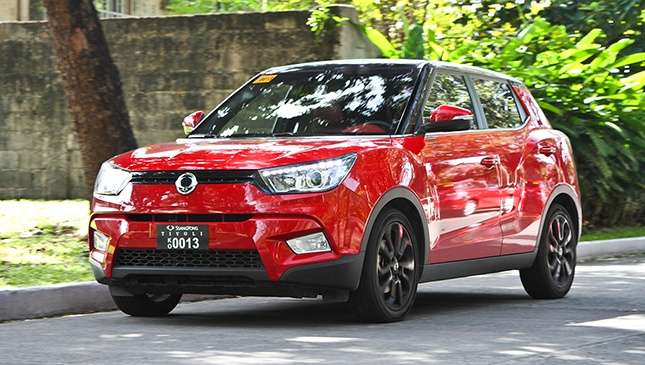 Do you like the looks of the Countryman but think that Mini's prices are outrageous? Do you want a zippy car that doesn't make any fuss? Do you admire Deadpool and want to wear his costume? Then SsangYong has a car for you—the four-door, five-seat Tivoli subcompact crossover.
The Berjaya Group seems to have the nose for a good car brand the same way that Warren Buffett has an instinct for buying stocks. It took over Mazda for the Philippine market just as its attractive styling and efficient engines were about to be launched, and now it has started distributing Korean brand SsangYong as a new wave of products arrives.
Continue reading below ↓
Recommended Videos
That new lineup sheds the bizarre styling that used to be SsangYong's most memorable feature. The Tivoli looks nothing if not an homage to the Mini Countryman. It's not a blatant copy the way the Chinese brands do it, but rather a reinterpretation of Oxfordshire by way of South Korea and India (the company is now owned by Mahindra).
There's no overt roundness in the Tivoli's face or profile. The headlamps are beady trapezoidal units and lend the car a scowling look. They include LED-strip DRLs. The thin grille comprises strips of piano black plastic. The sculpted bumpers include embedded foglamps. The A-pillars are blacked out for a floating-roof effect, and the roof is painted in a contrasting black. The rear is also neatly done, with a sculpted hatchback lid and the taillights wrapping around the rear fender bulges. Even the wheels are mean-looking 18in alloys with spider-like spokes. All signs that this is not your Uncle Kim's SsangYong.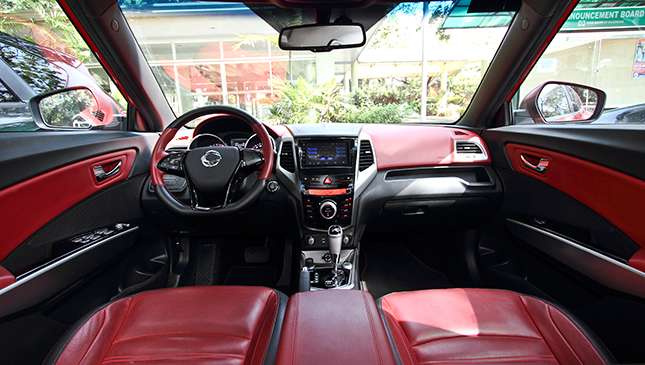 The interior also shows effort, in concept and execution. The red-and-black plastic-and-leather design is a bit of a jolt after all the black or gray interiors usually on offer. The color scheme neatly reflects the exterior styling, and also has you imagining a certain sword-wielding Marvel superhero riding shotgun. A daring interior succeeds or fails in the execution, and in this one, we are again pleasantly surprised. The leather is perforated and pleated in just the right way. Seats are supportive and comfortable.
The keyless-type starter button fires up a 1.6-liter engine. The four-cylinder has a modest-sounding 126hp and 160Nm, but off-the-line response is excellent. A light tap on the accelerator gives a good surge. You can keep it below 2,000rpm in city driving and it can keep up with traffic. Peak torque is at 2,800rpm—commendably low for a gasoline mill.
The automatic transmission has six forward gears, but there's a slight delay when it upshifts and you seem to lose power for a second. There's an occasional jolt, too, when it downshifts, particularly during heavy braking. You can access a manual mode by pulling the lever sideways and using a thumb-activated rocker switch. Actuation is not as intuitive as with paddle shifters, so it's good the six-speed chooses gears appropriately on its own. Helpfully, there's a button to cycle between Economy, Power and Winter mode. Power keeps the revs up and prompts for earlier downshifts.
Small cars are prone to having compromised rides, so we're apprehensive about the Tivoli and its 18in wheels and 45-series rubber. But again, there's a revelation. The suspension tuning runs the right balance between ride and handling. It manages to absorb bumps without transmitting any harshness. Cornering is benign, with relatively little body roll for a crossover. Notably, you can alter the steering feel using a dashboard button. There's Comfort providing extreme lightness for parking and stop-and-go traffic. Sport tightens up the electric power steering for the highway and a more enthusiastic driving style.
The back seat, usually an afterthought for this class of vehicle, has ample kneeroom and comfortable shoulder room for two. The cargo area is usefully wide and just deep enough. The floor of the luggage area is low, allowing for loading of taller items. The drawback is there's no spare tire; under the trunk floor is a container of sealant and a tire pump instead.
Any other negatives? One is the sound of the audio system, which is pretty dismal. There's Bluetooth and video capability, but the sound is muffled. Ever wonder what John Mayer sounds like if he's at the bottom of a well? You'll have your answer. The steering wheel doesn't telescope. Put the car in reverse and it emits a mad cricket warning sound. It's audible from outside, too, just to scare off pedestrians. And the headlamps are old-style halogen units. Then you see the price tag, at just over P1 million, and you realize, those aren't really deal-breakers.
So, the Tivoli is cheap, stylish and well-executed, and it drives well. What is keeping this car from being a runaway success, along with all the subcompact crossovers on the road today? Only one—the badge. SsangYong elicits either no response or raised eyebrows, based on people's memory of the previous weird cars coming from the brand. If you can stand to patiently answer your friends who ask, "What's that?" when they ask what you drive, the Tivoli merits serious consideration.
SPECS: SsangYong Tivoli 1.6 Sport R
Price: P1,080,000
Engine: 1.6-liter petrol I4
Power: 126hp @ 6,000rpm
Torque: 160Nm @ 4,600rpm
Transmission: 6-speed automatic
Layout: FWD
Seating: 5
Score: 18/20