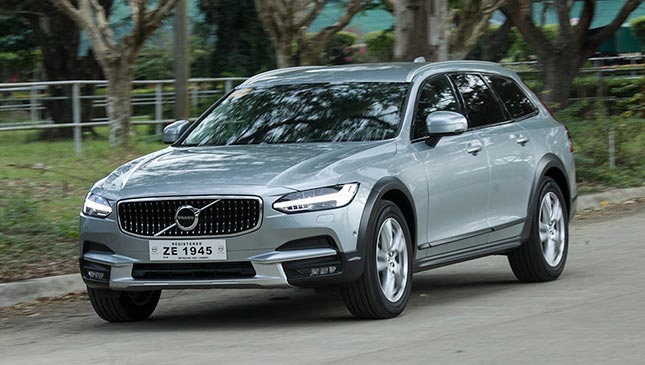 Volvo has a storied history of making quirky wagons. Mention, for example, the 850 T5-R, and you will have older Euro enthusiasts drooling. Sexy, it wasn't, but this boxy wagon—often painted a ghastly shade of yellow—boasted a turbocharged five-pot that powered it to 100kph in under 7.5sec, on the way to a V-max of 245kph. It was so potent that Volvo entered it in several racing series alongside sleeker—but arguably less fascinating—sedans.
The V90 CC D5 I'm driving at the moment is infinitely sexier than the 850, with testosterone-injected wheel arches, Mjolnir-inspired headlamps, and curva-licious body lines. But it weighs some 300kg more, and equipped with a diesel engine that's one cylinder and nearly half a liter down on the old gasoline T5. Despite this, it hits the century mark just as quickly, on the way to a limited top speed of 230kph. And it's only limited because this wagon is really an SUV in disguise.
Continue reading below ↓
Recommended Videos
Yes, seriously. Peek under those sexy skirts and you'll see a lot of sunlight underneath the 210mm-high flat floor. No hanging driveshaft or exhaust to catch on rocks. There are skid plates protecting the soft, breakable underbits. Meager approach and departure angles prevent it from tackling challenging climbs, but an 'Off-Road' mode that provides electronic differential locking (which is why you can't use it over 30kph), a long-stroke suspension, and a 300mm wading capability allow it to weather most unpaved trails with ease. The 255/55 R18 Michelin Latitude Sport tires even have enough sidewall to keep the shiny alloys off the rocks.
Granted, the V90 CC isn't quite as surefooted off the road as a dedicated off-roader. But that won't bother Volvo owners much. Because the V90 isn't just an all-wheel-drive wagon. It's a luxury all-wheel-drive wagon.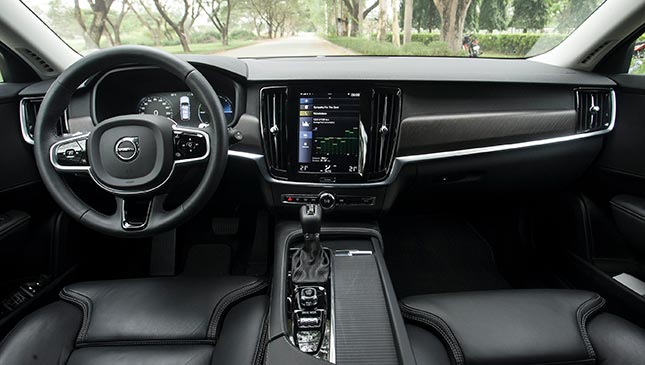 Inside, you find powered leather buckets with electric lumbar adjustment for both driver and passenger, and a huge rear bench with built-in child-boosters. The rear loading bay is huge and flat, with a hydraulically lifted cover that exposes the spare-tire compartment. About the only nit here is that the driveshaft recessed into the floor pokes several inches up into the cabin, much to the discomfort of the middle passenger in the rear.
Polished steel and naked wood accentuate the interior design, the latter feeling much more exotic than the heavily lacquered stuff on other luxury cars. It's still just a veneer wrapped around plastic, but let's be honest—you'd have to pay Rolls-Royce money to get a car with actual wood planking. Set in the middle of all this lovely wood and steel is Volvo's 9.2in Sensus Connect touchscreen, an awesome bit of kit that features built-in nav, Apple CarPlay, Android Auto, and a crisp, bassy speaker setup. The way the screen displays multiple panes—navigation, phone, music, fuel economy, climate control—all at the same time is brilliant, and makes you wonder why other luxury marques still bother with tiny screens.
Still, the cleverest thing about the V90 is the way it drives. No, it's not particularly sporty. While there's hardly any slop in the steering or the chassis, and a lot of torque to the ground through the eight-speed gearbox, it doesn't awaken your inner Stig Blomqvist. Instead, it's the driver-assist systems that impress. Aside from the usual warning beeps, buzzes, and vibrations that alert you to passing motorbikes, obstacles, and unplanned lane changes, the V90 features 'Pilot Assist,' which can actually drive the car by itself. Sort of.
It uses video cameras and radar to read the road ahead and keep you in lane, which it does rather smoothly, as long as the road is well marked. In certain situations, sun glare, faded marks, and low-profile obstacles stymie the system, and heaven forfend you approach a sharp curve with Pilot Assist on! And while it does a good job of matching speeds with the car in front of you, it responds slowly to cars cutting into your lane, and can be a bit jumpy on the accelerator and the brakes. So no, it won't exactly save your bacon if you're driving home drunk, but it's perfectly fine for short stints on the highway or in traffic.
Also perfectly fine is the fuel economy, which hovers above 20km/L at an 80kph highway cruise—impressive for a 1.8-ton vehicle with all-wheel-drive and 232hp. In traffic, however, you feel that weight. Urban economy fluctuates between 6km/L and 10km/L. While there's an auto-stop system built into the Eco Mode, it doesn't activate if you've got the A/C at full blast. Even in its lowest setting, the A/C vents whistle a bit, which is a minor annoyance in a car this quiet, luxurious, and comfortable. Then again, switch on the Pilot Assist, rifle through your Spotify playlist for something fun, and turn the volume up, and these minor annoyances fade into irrelevance. The V90 might not be the perfect luxury SUV—er, wagon—but you'd need to spend several million more to get something comprehensively better.
SPECS: VOLVO V90 CC
Engine: 2.0-liter turbodiesel I4
Price: P4,695,000
Transmission: 8-speed automatic
Power: 232hp @ 4,000rpm
Torque: 480Nm @ 1,750-2,250rpm
Powertrain: AWD
Score: 19/20