"It's been a while," I think to myself as our vehicles—a pair of hardy Mitsubishi Montero Sports—steadily make their way up to the Philippine summer capital. Save for a quick stopover on a separate work-related trip several months ago, the last time I was in Baguio must have been back in 1997 as a pint-sized, animated brat of a seven-year-old.

I still recall how me and my family would go about these trips back then: two reliable vehicles, two drivers, enough refreshments to last half a day, and a pair of bulky, old-school (at least by today's standards) walkie-talkies that me and my twin brother would fool around with whenever we'd find ourselves in separate cars. And of course, the sight of my mother pushing her back against the front passenger seat as the mighty roar of our diesel engine filled the cabin during overtakes.
Now, nearly two decades later, I find myself behind the wheel on the legendary Kennon Road. "Finally," I tell myself. Paulo, our resident Baguio boy, has told me stories of skilled drivers and epic 20-minute blitzes up this route's entirety. I am not one of those drivers. I hesitate as I try to keep up with Jason and Dinzo in the lead SUV, over-analyzing each turn. Eventually, my Montero Sport grows on me, its precise handling and power providing me with the confidence necessary to tackle every curve and obstacle I'm presented with. My dad would be proud... my mother, probably not so much.
Continue reading below ↓
Recommended Videos
We need this. The past few months have been hectic for us, to say the least. This is our first road trip without our former editor, who has moved on to pursue other ventures, and on the same note, our first with several newly minted members of the team. This is an opportunity to connect, and where better to do it than the City of Pines?
Our group arrives in Baguio feeling refreshed rather than exhausted, probably owing more to the plush leather seats and otherworldly suspension that Mitsubishi engineers have so graciously endowed upon our vehicles than my driving (although I'd like to think otherwise). What once was a grueling nine- to 12-hour odyssey has been cut down by more than half, thanks to a series of expressways and newly paved roads—another indication of how quickly times have changed. The past two decades have definitely left its unmistakable mark on this place: an endless flow of vehicles descend upon the city center during peak hours, filling the air with dizzying fumes —the cough-inducing byproduct of low down payments and flexible financing. SM, the epitome of Philippine consumer culture, has planted its roots here, and Camp John Hay now serves as host to a major BPO company. Staff writer Elaine, a self-confessed French-fry addict, points out a Potato Corner as if it symbolized the arrival of modernity in an uncivilized corner of the country. Probably a testament to her loves of spuds more than anything, considering the name has likely been here a while.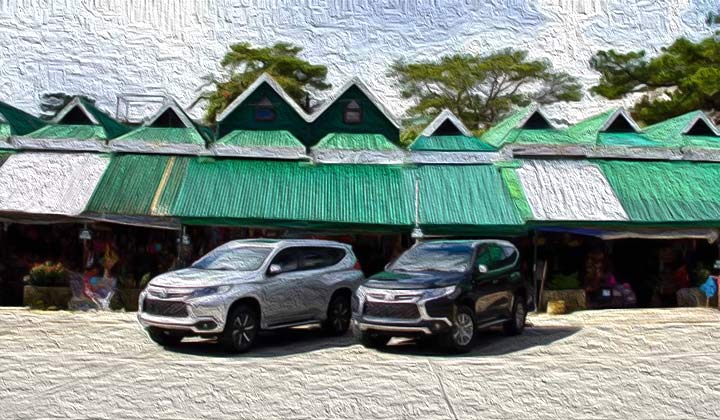 Thankfully, all is not lost: The spike in motorists has yet to catch up with the city's climate, which remains cool enough to warrant our overnight stay. The sweater weather and the local fare—which we sample courtesy of juicy steaks at The Sizzling Plate and sumptuous organic dishes at the must-visit Cafe by the Ruins—remind us why Filipinos the country over began flocking here in the first place, despite the lengthy drive. After dinner, we head to the Baguio Craft Brewery, where we drink to our merriment. Not to the point of drunken stupor, of course, but just enough to keep the dread of our churn, our endless deadlines and commitments, neatly tucked away in the back of our minds. Fueled by both the cold mountain weather and the warmth of each other's company, we exchange stories of anything and everything, our hearts clinging to what once was, but our sights dead set on what lies ahead.
My phone rings at 6am—it's the concierge. Wake-up call. "Jesus Christ, Elaine," I murmur in my head as I groggily pull myself out of bed, my bones absorbing the chill of Baguio's early-morning weather. We meet up at the lobby a short while later before heading into town for a quick shoot and some sightseeing. The Laperal White House, The Mansion, Camp John Hay, Mines View Park—we make the most of what little time we have remaining here. Seeing these places 20 years on is like a shot of nostalgia straight to the gut.
The night before our trip, I found myself searching our bodega, browsing old photo albums for memories of trips to my uncle's rest house here during the '90s. I couldn't find them, but being here now, I realize I didn't need to. We stop for lunch at Forest House, treating ourselves to a sizzling hotplate of bagnet sisig, binagoongan, and several other dishes that would put their counterparts in Manila to shame. More important, the view here is amazing—but it's one that Paulo says won't last much longer. He tells us to soak it in while we can, because eventually, these pines will be a thing of the past. Sadly, he's probably right. He gives it his all trying to convince us to stay the rest of the weekend. As much as we would love to—and we definitely do want to (an overnight stay here, despite the shortened trip, remains to be less than ideal)—we can't. We board our vehicles and begin our descent. Hopefully next time, Pau.
Times have changed, it's undeniable. Cars have changed—sitting here inside the cabin, basking in the refinement of our Montero Sport, this much is obvious, too. Top Gear PH has changed. Hell, even I, for all my stubbornness, am not immune from it. But deep down, beneath the hypnotizing drone of the engine as we drive down from the place beyond the pines, past all the uncertainty waiting back at home, there's a part of me still holding on to our old walkie- talkie, refusing to let go. Perhaps waiting for somebody to answer back. No matter how many cars fill its streets or how many trees they cut down, this place remains the same to me. Here in Baguio and on trips similar, I'm still the bright-eyed seven-year-old, eager to grow up. That much, I know, will never change.
NOTE: This story first appeared in Top Gear PH's November 2016 issue. Minor edits have been made.