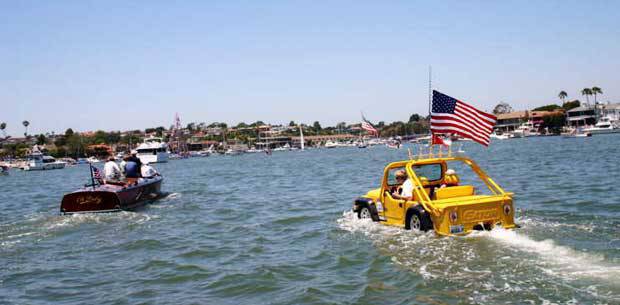 You've seen all the horrible images of cars submerged in floodwater. You've heard all the sob stories from friends and officemates whose cars got trapped helplessly inside their garages as the water rose. Or worst, you've had your own car drown in the worst deluge to have occurred in Metro Manila in ages. Yes, you've screamed all the cuss words at Ondoy, but none of them will recover the losses and damages incurred during that torrential weekend.
ADVERTISEMENT - CONTINUE READING BELOW ↓
Now, with all the talk about climate change, you expect things to only get worse. With every rain shower, you fidget and wonder if your car is safe where it's parked. And then you wish you had an amphibious car-one that could both run on land and float in the water. Well, if you have the money to buy such a vehicle, we know exactly where you can get one.
A company called WaterCar Inc., based in Fountain Valley, California, builds and sells amphibians that will blend perfectly well in regular road traffic. WaterCar was founded by a guy named Dave March, who, in 1976, went into the business of repairing cars and boats. Eventually noticing the many similarities in the design principles between the two, March went on to start a company assembling high-performance cars that double as amphibians.
Currently, WaterCar has two product offerings: the Gator and the Python. The Gator is based on a Jeep CJ-8. It has a top land speed of 135kph and a top water speed of less than 15kph. Among the vehicle's special features are a fiberglass body, a water jet propulsion motor, stainless-steel hardware, and steering mechanisms for both road and water. The package sells for $29,500 (P1.37 million), about the same price as a regular compact SUV.
ADVERTISEMENT - CONTINUE READING BELOW ↓
Recommended Videos
But WaterCar's true pride and joy is the Python, a hand-built hot-rod amphibian that draws power from a Corvette engine. On water, it will cruise to a top speed of 100kph. On land, it will accelerate from a standstill to 100kph in just 4.5 seconds. The fully customized Python is yours for $200,000 (P9.3 million).
As you can see, amphibian cars are very expensive. But they come with that priceless peace of mind. No more need to worry whether your car has "acts of God" included in its insurance policy. And as you can also see in the pictures, amphibians are veritable babe magnets. Imagine saving FHM girls trapped on the roof during a flash flood...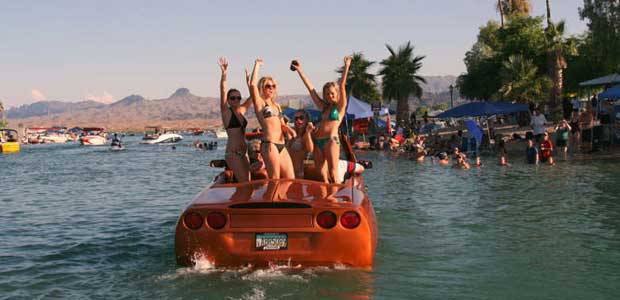 ADVERTISEMENT - CONTINUE READING BELOW ↓