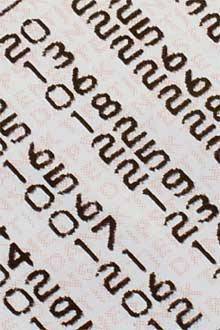 Has someone finally bagged the Grand Lotto prize that has reached close to half a billion pesos? The winning combination in tonight's 6/55 Grand Lotto draw is 53-9-45-24-50-29 according to a Tweet by GMA News.
If you're the lucky winner, you'd definitely enjoy car shopping with P495 million. This amount is enough to buy at least:
- 579 units of Toyota Vios, in case you feel like starting a fleet of taxi with the model's range-topping variant;
- 600 units of Ford Fiesta, one of the latest cars in the Philippine market;
- 217 units of Toyota Prius or 48 units of Mercedes-Benz S400 Hybrid for the green motorists;
- 158 units of Chevrolet Camaro or 263 units of Hyundai Genesis Coupe for those who want muscle cars;
- 129 units of Volvo XC60 for the safety seekers; and
- 158 units of Ford Expedition for those who need to haul lots of passengers and cargo.
Continue reading below ↓
Recommended Videos
We also asked our Facebook friends about what they intend to buy with the money from tonight's draw.
"One dealership na kaya? LOL." – Jom Eusebio
"Gimme a Land Cruiser, a Grand Starex HVX and a Genesis Coupe. Also, a Range Rover for my dad and an E-Class for my mom. The rest can go to charity, business, housing and the bank." – Jejo Bongat
"GT-R and GT-R SpecV, Toyota Mark X and 370Z." – Ryuji Hoshino
"Gonna buy Toyota Alphard (family car) and GT-R for my hubby! Whoop! Whoop!" Marilen Francisco-Acha
"A GT-R, Camaro, R8, X6, X5, Evo-X, Impreza WRX STI, M3, A7 and a Clubman. Hehehe…XD" – Jojo Capunay
"For now, a Lexus IS300C and a Mitsubishi Evo 10. The remainder is for the 2 cars (maintenance, registration, etc.) and a worthy investment :D" – Rudolph Daniell Tumbaga
"Bugatti Veyron Sport and (Shelby Super Cars) SSC Ultimate Aero for sure." – John Agustin
What would you buy if you were tonight's big winner?
Photo from SXC.hu